"Beat Me if You Can... Survive if I Let You!"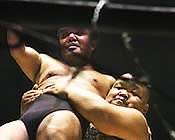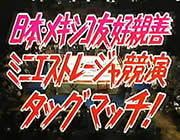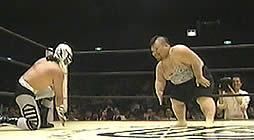 PLEASE NOTE: THIS FILM IS IN JAPANESE LANGUAGE ONLY (NO ENGLISH SUBTITLES)
director: Naoki Kubo
starring: Little Frankie · Ryzo Kadokake · Mr Buddha Man · Nineto Fidel Leisure · Gorila Mya · Gorila Futuro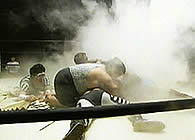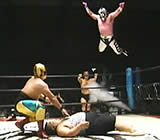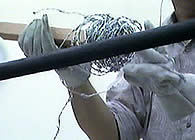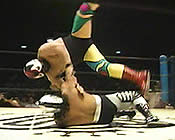 This film follows three Japanese midget wrestlers as the train and prepare for their 'Death Match' against three visiting Mexican Luchadors. One of the Japanese wrestlers is Little Frankie who is [arguably] the "World's Strongest Small Man." The competition itself is a 'Barbed-Wire Tear-Gas-Spraying Six-Member Tag-Team Death Match' with barbed wire covering the ropes (see above photo) and tear gas explosions at unexpected moments (see above left photo and below).

As already mentioned, this is NOT an English friendly print. However, it's perfect as party or poker-game video wallpaper.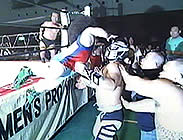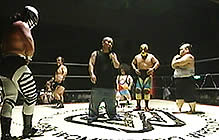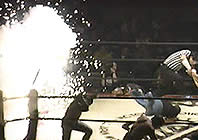 A Japanese film in Japanese language only; fullscreen format, uncut (60 minutes),
DVD encoded for ALL REGION NTSC WORLD FORMAT; extras include bonus material and trailers.