Jayne Mansfield is an Anthropologist
Sexually Stalked by 'Franco and Ciccio' Comedy Team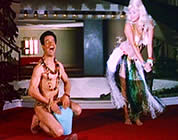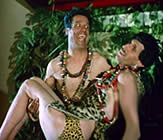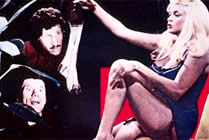 original Italian title: L'AMORE PRIMIVITO [The Primitive Love]

director: Luigi Scattini
starring Jayne Mansfield · Franco Franchi · Ciccio Ingrassia · Mickey HargitayCarlo Kechler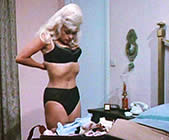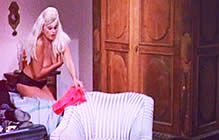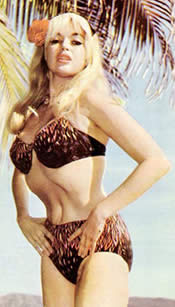 'Doctor' Jayne Mansfield is in Italy to present her research dealing with mating customs from around the world to a renowned psychologist. But her biggest problem is dealing with the raging lust brewing inside two very horny bellhops.
The film is divided into two scenarios. First (written by the comedy team of Ciccio and Franco) is the story of buxom Jayne being ogled, stalked and preyed upon by these two bellhops who are clearly an over-the-top European version of Martin and Lewis. In the other part, penned by director Luigi Scattini, Jayne is an anthropologist who presents her research to a respected professor. This narrative is punctuated by surprisingly explicit mondo footage (two people making love in a rice field, an adulteress in China assaulted by an egg throwing husband, a bloody cockfight, the slaughter of a pig, snake and crocodile, etc). Seemingly, director Scattini can't help himself; he loves the shockumentary stuff. In fact, some of this footage is recycled from his Sexy Magico released the previous year. After this film, Luigi would continue making mondo documentaries (including the International hit SWEDEN HEAVEN OR HELL). A bit later in his career, he helmed a quirky actioner with Annie Belle and Pamela Grier, NIGHT OF THE HIGH TIDE. Mr Scattini died from natural causes in 2010 at age 83.
Reportedly, this was a difficult shoot caused by too many chefs. Everybody seemed to have a different ideas of how the film should be handled (further complicated by producer Pietro Paolo Giordani's management contract with the Franchi and Ingrassia team). As a result there was a considerable amount of 'down-time' when the project was put on hold. During such a hiatus, Mickey Hargitay was approached to star in a separate movie. He took a week and made THE CRIMSON EXECUTIONER [Bloody Pit of Horror], Interestingly, that film has stood the test of time more than this one with a bigger budget.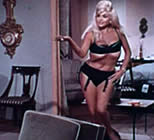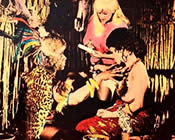 An Italian film in English Language; widescreen format, (77 minutes),
DVD encoded for ALL REGION NTSC; extras include original trailers and shorts.