A Wealthy Family with a Terrible Secret...
Now Facing Death... One by One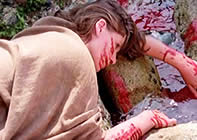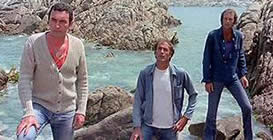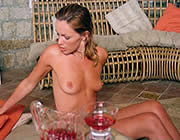 Original Italian Title: NOVE OSPITI PER UN DELITTO [Nine Guests for a Crime]

director: Ferdinando Baldi
starring: Arthur Kennedy · John Richardson · Sofia Dionisio · Dana Ghia · Massimo Foschi · Venantino Venantini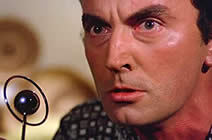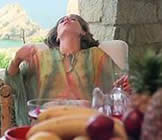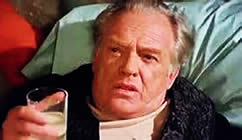 A wealthy family decides to vacation on a remote Mediterranean island owned by the patriarch, Ubaldo. As the title suggests, there are nine family members, consisting of dad (played with crusty glee by Arthur Kennedy), his new, much younger wife Patrizia, a troubled sister, his three sons and their wives. However, the family is the very definition of dysfunctional, living in a whirlwind of sexual frustrations (one of the sons is even trying to seduce his father's wife) and all haunted by a dark secret from years ago. Eventually, after a score of perverted sex encounters, the guests start mysteriously dying in grisly fashion. Meanwhile, their boat has drifted from shore so the family must brace and participate in the deadly game of whodunit.

Obviously inspired by Agatha Christie's Ten Little Indians, this film delivers that drawing-room motif in cringing sleazy fashion. The proceedings are complimented by an exceptional cast which includes American veteran Arthur Kennedy who left Hollywood in the late Sixties (after winning Best Actor and four Best Supporting Academy Award nominations) "to work in the freeform European studios." Many legendary cult films came from that decision, among them LET SLEEPING CORPSE LIE, ANTICRISTO, SHARK'S CAVE and EMANUELLE ON TABOO ISLAND. Costar John Richardson is a British actor who also made the dark Giallo VICE WEARS BLACK HOSE, Riccardo Freda's MURDER OBSESSION and the Spaghetti Western JOHN THE BASTARD.
Filmmaker Ferdinando Baldi (sometimes Fernando Baldi) was considered one of the all-time best directors of Spaghetti Westerns, helming a number of the truly great entries (including BLINDMAN and HATE THY NEIGHBOR). He also made other genre favorites, like THE OPIUM CONNECTION and the sex/horror opus TERROR EXPRESS!. Director Baldi - who sometimes signed his films as Ted Kaplan or Ferdy Baldwin - retired from filmmaking in 1988. He died peacefully in his sleep at age 90 in November 2007.
An Italian film with English subtitles; widescreen format, fully uncut (88 minutes),
DVD encoded for ALL REGION NTSC WORLD FORMAT; extras include original trailer.