One of the Earliest Examples of Black Sexploitation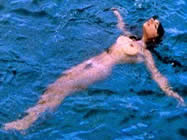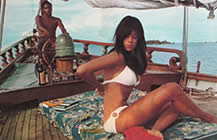 original Italian title: IL DIO SERPENTE [The Snake God]

director: Piero Vivarelli
starring Nadia Cassini · Beryl Cunningham · Evaristo Marquez · Galeazzo Bentivoglio · Arnoldo Palacios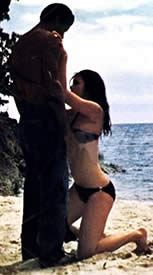 While vacationing in the Caribbean with her husband, Paola meets a native named Stella (after noticing her having wild sex on a beach). The two women become quick friends, sharing each other's culture which includes lingerie shopping and some naked frenzied tribal dancing. Eventually they exchange lovers, but her new black friend neglects to warn Paola that her lover is - in fact - the manifestation of a fearsome snake god.

   Here is an early example of an Italian genre film that could be called black sexploitation as popularized by Joe D'Amato (in PAPAYA LOVE GODDESS OF CANNIBALS, SEX AND BLACK MAGIC, et al), Osvaldo Civirani's BLACK PEACOCK: Sexy Voodoo, and any number of LAURA GEMSER films. These motion pictures should not be confused with American blacksploitation because the targeted audience was essentially white males with more interest in primitive 'forbidden sex' than seeing bad-ass urban black dudes stick it to the man.

This film was directed by entertainment veteran Piero Vivarelli who found fame as a scriptwriter for the legendary Spaghetti Western DJANGO (1966) and then later for Joe D'Amato's EMANUELLE IN AMERICA. He has directed only a handful of movies (best known for his pop-art caper SATANIK and the Petra | Moana Pozzi sex comedy EROTIC GAMES . Mr Vivarelli died at age 83, September of 2010.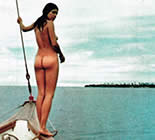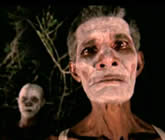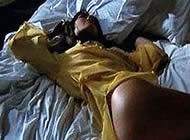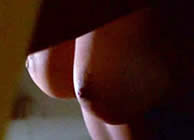 An Italian film with English subtitles; widescreen format, uncut version (95 minutes),
DVD encoded for ALL REGION NTSC; extras include original trailer.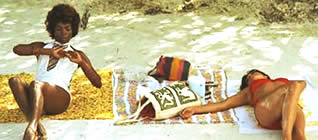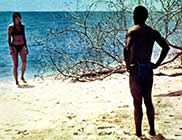 Violence/Nudity/Strong Sexual Situations/Lesbianism/Racism:
Recommended for Mature Audiences