Jayne Mansfield and Mickey Hargitay in Peplum Actioner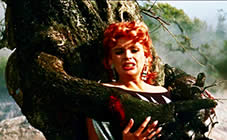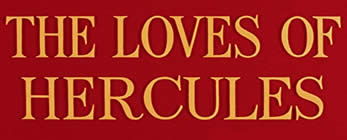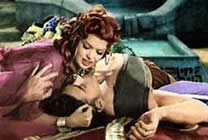 original Italian title: GLI AMORI DI ERCOLE [The Loves of Hercules]
also known as HERCULES VS THE HYDRA

director: Carlo Ludovico Bragaglia
starring Jayne Mansfield · Mickey Hargitay · Tina Gloriani · Massimo Serato · Rossella Como · Moira Orfei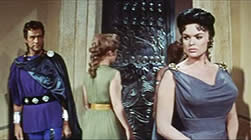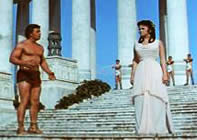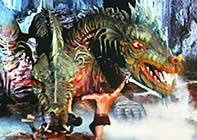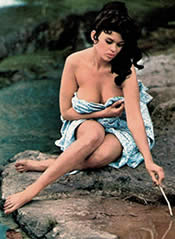 While Hercules is away, his people and the woman he loves (played by a blonde Jayne Mansfield) are killed by the brutal king of Ecalia. Hercules travels to that kingdom for vengeance. Enroute, he challenges and destroys the Hydra monster at the gate to the underworld. Upon arrival in Ecalia, Hercules discovers the king is dead and Queen Dianira (brunette Jayne) now occupies the throne. He immediately becomes smitten with her [obviously because she looks like his former lover] but Dianira is promised to Acheloo. Meanwhile, an evil Amazon queen named Hippolyta (a redheaded Jayne) lures Hercules to her lair; but he manages to escape just before getting transformed into a talking tree. Back in Ecalia, Queen Dianira finds herself in constant danger, however - after being saved by Hercules during an attack from a ferocious bull - she decides to give her heart to him.
  Actress Moira Orfei did not get along Jayne Mansfield during the shoot. Ms Orfei felt the starring role belonged to her (she would eventually appear in 25+ Peplums including MOLE MEN AGAINST THE SONS OF HERCULES). She managed to get Jayne's name removed from advanced promotional materials for the Italian release.

Internationally famous sex symbol Jayne Mansfield was married to Hungarian bodybuilder Mickey Hargitay. She accepted this role only after demanding that her husband play the part of Hercules. He would go on to also star in the (classic) CRIMSON EXECUTIONER [Bloody Pit of Horror] and together they would make the mind-boggling Italian mondo-ish PRIMITIVE LOVE for Luigi Scattini. Ms Manfield's life ended in tragedy on June 29, 1967. While traveling from a nightclub performance in Biloxi, Mississippi, enroute to New Orleans, she was decapitated on Highway 90 when her car slammed into the back of a semi-tractor that has stopped in the middle of the road. She was 34 years old.

Mickey Hargity retired from acting in 1974 (Renato Polselli's BLACK MAGIC RITES & SECRET ORGIES 14th CENTURY would be his final film). He married again in 1977 (to actress Ellen Jean Siano) and became a successful real estate investor and contractor in Los Angeles. Mr Hargity died at age 80 from Multiple Myeloma September 2006.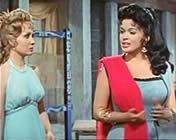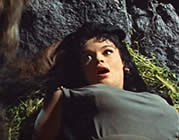 An Italian film in English Language; widescreen format, uncut version (96 minutes),
DVD encoded for ALL REGION NTSC; extras include original trailer.