Add This One to the List of Inappropriate Kid's Movies from Asia...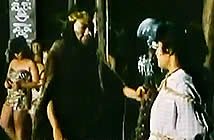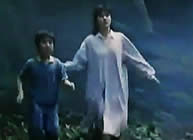 Original Chinese Title: GUI WU XIA JING
director: Chi Lo (as Joe Law)
starring: Hsiang Yun-Peng · Li Hui-Hui · Wu Ma · Lam Siu-Lau · Wang Te-Chi · Heung Wan-Pang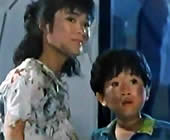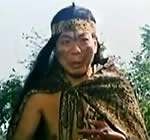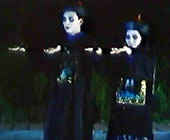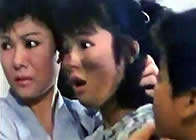 A family moves into an old house. The handyman's son tells brother Chung and older sister Ming (sexy yet subdued Lam Siu-Lau) about a legend which insists a family of vampires was sealed up in the basement. The kids investigate. They manage to find and rejuvenate a vampire child named Ting Tong who wants very much to join in their adventures. Ming then wishes she could be a part of her comic books and live in that world, so vamp kid obliges. He shrinks the group and whisks them all into a comic book. But the fantasy world is not the joyous playground Ming had imagined. Rather, immediately they are attacked by snakes and then captured by a cannibal tribe ready to barbecue a young princess on a spit. A witch doctor torments the kids while transforming into a rat, a dog, a monkey, Dracula and finally into Jesus Christ (!) which causes them to scream "Crucify!" while chasing him with a cross. They manage to rip off his clothes, causing the embarrassed witch doctor to run away. However, the problems continue for Chung, Ming and Ting Tong, now facing killer-vines, a witch on a broom, a bull-king as well as attacks from guns, grenades and a chainsaw. Meanwhile, in the real world, the angry vampire parents are trying to find their son and are threatening the rest of the household.
Add this one to the list of weird, inappropriate kid's movies from Asia. The talk of cannibalizing children and "how good their flesh must taste" is generally not considered wholesome family entertainment. And villains morphing into Jesus Christ as kids gleefully scream 'Crucify him' is not the substance of Saturday Morning cartoons. There's also a jarring subplot of handyman Huang Wang's affair with the kid's mother, the married Mrs. Lee (whose rich husband is away in the USA on business). The entire thing is the brainchild of director Chi Lo (sometimes called Bowie Law and Joe Law), an independent filmmaker who specialized in kung fu movies until discovering the Category III market in the early eighties (with such projects as RESORT MASSACRE and BEASTS: CHAINSAW SLAUGHTER). Despite his age (born in 1936), Mr Chi Lo is still active, working as a supervising director for the China Film Group Corporation (CFGC) in Beijing.
Veteran actor Wu Ma is in top form here as the evil witch doctor, a meatier role (no pun intended) than many of his other projects from this period. He starred in a whopping 270+ films between 1964-2014 (and directed another 50 including EXORCIST MASTER). He died from lung cancer in February 2014 at age 71.
A Taiwanese film with English and Chinese subtitles; fullscreen format, fully uncut (94 minutes),
DVD encoded for ALL REGION NTSC WORLD FORMAT; extras include selected trailers