"The 'Last House on the Left' of Spaghetti Westerns...
a Cruel Film of Mindless Psychotic Thrill Killing"
--Spaghetti Westerns: The Good The Bad and The Violent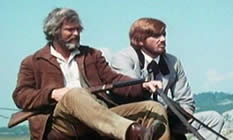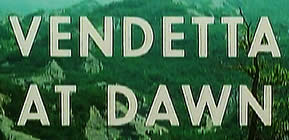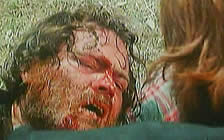 original Italian title: QUEL MALEDETTO GIORNO DELLA RESA DEO CONTI
[Terrible Day of the Big Gundown]

director: Sergio Garrone (as Willy S Regan)
starring George Eastman ˇ Ti Hardin ˇ Lee Burton ˇ Bruno Corazzari ˇ Costanza Spada ˇ Nello Pazzafini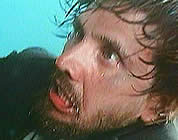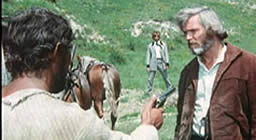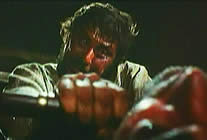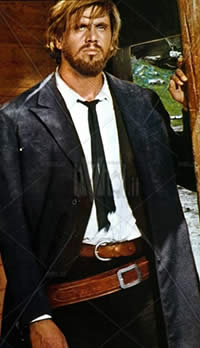 The 'rumor of gold' has brought undesirables to Culver City. The town has become a hotbed of lawlessness. Many of the townsfolk have long since moved away, and the sheriff is having a difficult time enforcing the peace. Meanwhile, George Benton has just returned from medical school in San Francisco. George immediately marries his childhood sweetheart, Lory, and they move onto brother Jonathan's farm. The homestead is soon invaded by a group of sadistic thieves. Dr George - who happened to be away - returns to find everyone slaughtered. He abandons all restraint as he seeks revenge.
   Although he is considered one of the premiere Spaghetti Western filmmakers, Sergio Garrone tends to direct every project like a horror film. His previous DJANGO THE BASTARD is a perfect example of the quirky style. This time he's aided by a top-notch technical crew which includes Mario Bianchi as his assistant director (best known for SATAN'S BABYDOLL and MALABIMBA) and Aristide Massaccesi [aka Joe D'Amato] as the cinematographer. Director Garrone would follow this film with his first actual horror film HAND THAT FEEDS THE DEAD and then SS EXPERIMENT LOVE CAMP.
   Lead actor George Eastman wrote the script (using his real name Luigi Montefiori). In his career, he would be scripter for 50+ films including TERROR EXPRESS!, PORNO HOLOCAUST, SEXY NIGHTS OF THE LIVING DEAD, BESTIALITA and HARD SENSATION.
   This motion picture also stars Ty Hardin. After his television series Bronco (1958-62) ended, he took costarring roles in a flurry of motion pictures (from Merrill's Marauders to Palm Spring's Weekend) but his first top-bill came in 1964 from producer/directed Primo Zeglio who was making a Western in Italy called Man from Cursed Valley. While working on that film, Ty was approached to star in Sergio Leone's Fistful of Dollars but turned it down for a supporting role in Hugo Fregonese's SAVAGE PAMPAS. He returned to the States for a part in the big-budget Battle of the Bulge (1966). Another TV series, Riptide, kept him in the States until 1969 after which he went back to Italy for a series of hit Spaghetti Westerns beginning with this one, followed by two from Mario Gariazzo, DRUMMER OF VENGEANCE and ACQUASSANTA JOE. Numerous other projects bloomed for him in Italy but Ty eventually returned to the United States in the late '70s where he guest-starred on various TV programs until he became an evangelical preacher in Prescott, Arizona. A bit later Ty led a radical right-wing political group called the Arizona Patriots. Mr Ty Hardin died from a heart attack in August, 2017 at age 87..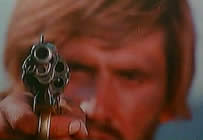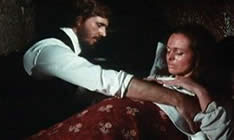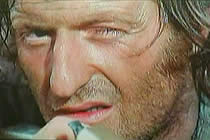 An Italian film in English Language; widescreen format, uncut version (90 minutes),
DVD encoded for ALL REGION NTSC; extras include selected trailers