Here it is! The Holy Grail of Cat III Exploitation!
With English Subtitles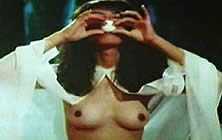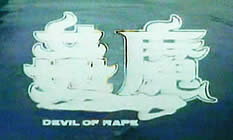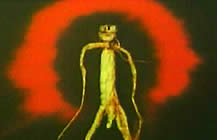 Original Chinese Title: JIAN MO
director: Jie Yuan
starring Pauline Chan Bo-Lin · Charlie Chao · Ju Fang · Kwan Hoi-Sn · Ng Kin-Bo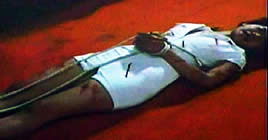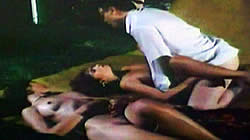 Here it is. The Holy Grail of Category III exploitation films! This is the wildly unconventional story of Chong-Qing, the nerdy son of a successful businessman. He has little interest in anything, especially the opposite sex. Meanwhile, dad's company has been trying to develop a life-enhancing drug and his scientists deliver a potent mandrake root to his house. They warn him that the root will cause extraordinary sexual stimulation but he neglects to tell his maid Huja. She thinks it's a soup condiment and proceeds to sprinkle it gingerly on the son's rice soup. He LOVES it. And soon, Chong-Qing is possessed by the mandrake sex god. He is completely obsessed with fucking and women are equally entranced. After plowing through a series of females, his concerned parents contact a doctor who allows a randy nurse to watch over him. That doesn't go well. His father then hires a team of lesbian witches to cure Qing. They only succeed in making him stronger, putting him totally under the control of the mandrake god who gives him the power to enjoy out-of-body fucking. Eventually a sadistic priest gets involved and attempts to capture the possessed Chong-Qing by torturing his girlfriend.
This was one of ten films made by Pauline Chan in 1982, marking the beginning of her meteoric yet tragic career. In the five years between 1992-1997, Ms Chan took the Asian film market by storm. At age 18, she starred in ESCAPE FROM THE BROTHEL and that began an impressive parade of 30 hit motion pictures which include such classics as MAN OF NASTY SPIRIT, SLAVE OF THE SWORD and HUNTING EVIL SPIRITS. In 1997 she quit her career to marry a much older Taiwanese millionaire; however their marriage was short and stormy, lasting only two years. After their breakup, Pauline began to appear on Hong Kong TV talk shows but it became obvious that she had a drug problem. In fact, on one program she attempted to commit suicide. After that troubling episode, Pauline moved to the U.K. where she was - a bit later - imprisoned for assault. Upon release, she relocated to Shanghai where, in July 2002, she gave birth to a baby boy. Unfortunately, a few weeks later - in July 2002 - Pauline Chan leaped from the window of her 24th-floor apartment to her death. She was 29.
Besides working as a film director, Yeh Fang was an actor starring in 50+ HK genre projects including CHINESE HERCULES and FATAL SEDUCTION. As a filmmaker he helmed only two projects, this amazing extravaganza and his previous WITCHCRAFT VS CURSE.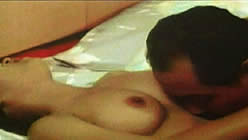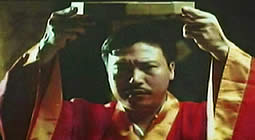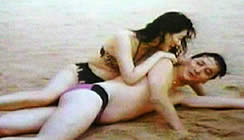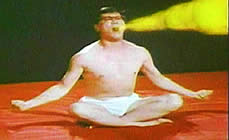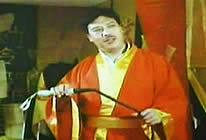 A Chinese film with good English subtitles; widescreen format, fully uncut (100 min.), DVD encoded for
ALL REGION NTSC, playable on any American machine.