Lin Hsiao-Lao in the 'Birth of A Legend' Fantasy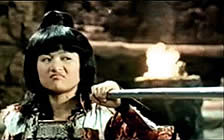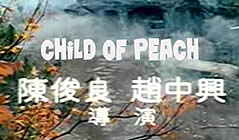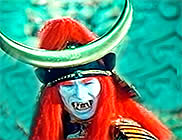 original Taiwanese title: XING TAO TAI LANG
also known as BIRTH OF PEACH BOY

director: Chao Chung-Hsing
starring Lin Hsiao-Lao · Tu Chin · San Peng · Chen Sze-Ping · Chang Fu-Chien · Chen Chi-Chiang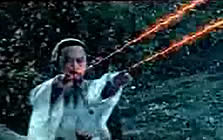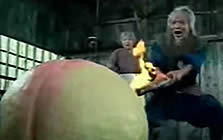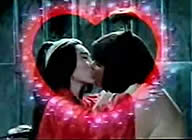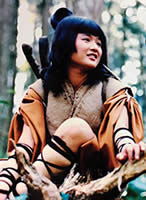 This film is loosely based on the Japanese legend of Momotaro, the superboy born from a celestial peach. The story originates in the wondrous Peach Garden in the Himalayas where species frolic with each other and the weather - controlled by the Sword of Sun - is always nice. But then King Devil invades paradise and steals the magic sword causing chaos throughout the land. A newly born savior is inserted inside a giant peach and trusted to a fairy for safe keeping. When Magic Peach grows into the promised superhero (after confronting many witches, zombies, etc) he joins Tiny Cock, Tiny Monkey and Tiny Dog to defeat King Devil on Monster Island and rescue a captured princess.
After the success of KUNG FU WONDER CHILD, this film attempted to supply the backstory for Peach, played throughout by Lin Hsiao-Lao. She was an actress who made a career of playing a superhero boy in numerous Taiwanese fantasies. This one was followed by MAGIC OF SPELL and MAGIC WARRIORS.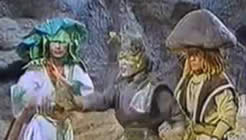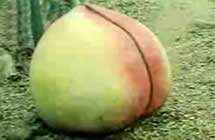 A Taiwanese film with English/Chinese subtitles; widescreen format, fully uncut version (95 minutes),
DVD encoded for ALL REGION NTSC; extras include original Lin Hsiao-Lao trailers.