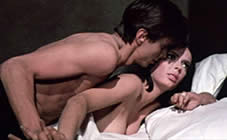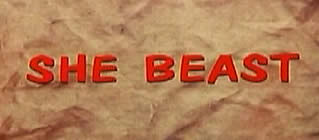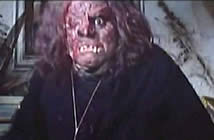 Original Italian Title: IL LAGO DI SATANA [The Lake of Satan]
also known as REVENGE OF THE BLOOD BEAST and SISTER OF SATAN

director: Michael Reeves
starring Barbara Steele · John Karlsen · Mel Welles · Ian Ogilvy · Lucretia Love (as Lucrezia Love)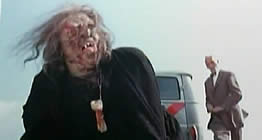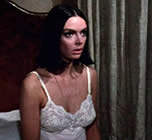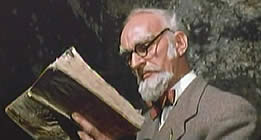 A British newlywed couple, Veronica and Philip, are vacationing in Romania. After a sexual indiscretion by a local innkeeper [appropriately named Groper], they heatedly go for a drive and accidentally run their car into the lake. He is saved but when Veronica gets rescued, Philip is horrified to discover that she's no longer his wife. Rather, she is now possessed by the spirit of an 18th-century witch named Vardella, killed by local villagers and bent on avenging herself against them.

The immediate attraction here is Barbara Steele in her only color horror film. But be forewarned, as good as she is, her role is minor and she 'disappears' once the monster takes possession of her body. On the plus side, she has the opportunity to show more skin than usual (see top photo, left) but she does not engage in a nude scene. [The only Barbara Steele nudity can be seen in Mario Monicelli's L'ARMATA BRANCALEONE (Army of Brancaleone)] Of course, Ms Steele is best known for Mario Bava's MASK OF SATAN, Mario Caiano's LOVERS FROM THE TOMB and her prostitute character Bozena in YOUNG TORLESS. Now in her 80's, she is still active with cameos and guest appearances. He last major role was that of Dr Julia Hoffman for the 1991 rivival of Dark Shadows.
This was an early role for Lucretia Love (billed here as Lucrezia Love), best known for her sexy swashbucking character in Ruggero Deodato's ZENABEL. Over the years, she has starring in numerous genre films including THE SEXORCIST and PROSTITUZIONE while managing to stay married to actor Mauro Parenti, now celebrating their 50th wedding anniversary.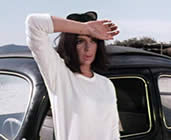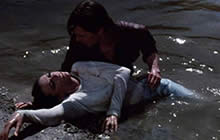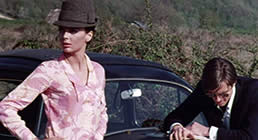 An Italian film in English language; widescreen format, uncut (75 min.), DVD encoded for ALL REGION NTSC, playable on any American machine. Extras include original theatrical trailer.