Another Legendary CAT III Film from Director Ivan Lai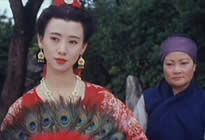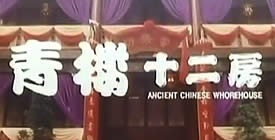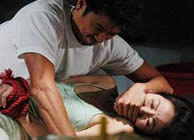 Original Chinese Title: QING LOU SHI ER FANG

director: Ivan Lai (Lai Kai-ming)
starring Ewong Yung · Kent Cheng · Elvis Tsui · Ching Suet Ngan · Dick Lau · Fui-On Shing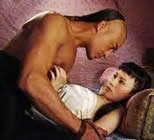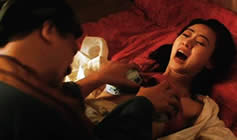 The central plot deals with young maiden Siu-ching who reluctantly sells herself to a brothel for five years to pay off the debts of her deceased father. However it's a bumpy start. She initially refuses to perform her duties, so the strict Madam, Miss Ng, sentences her to sit in the "magic cup" (a boiling tub of eels, see photo below left). Siu-ching - quite understandably - changes her mind about sexual chores after the ordeal and she is aided in her transition by kind assistant who harbors an obvious affection for the girl. Many other narratives fill this whorehouse, many surrounding carpenter Kong who tries to boost business by creating new sexual props like the "Tai Chi Bed," the "Super Shooter" and the "Giant Chicken Sex Chair." There's also big-breasted Sister Bamboo who finds herself without clients after accidentally smothering one with her breasts.
Notice: t his notorious CAT III film vacillates unflinchingly from light fun to disturbing torture, a characteristic not uncommon for the legendary films of Ivan Lai: BLUE JEANS MONSTER, EROTIC GHOST STORY I & III, PEEPING TOM, DAUGHTER OF DARKNESS I & II, and THE IMP .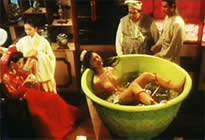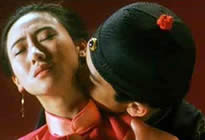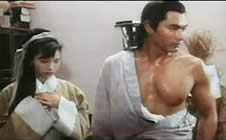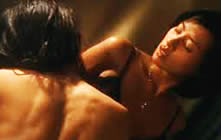 A Hong Kong film in Chinese language with English and Chinese subtitles; widescreen format, uncut (96 min.), DVD encoded for ALL REGION NTSC, playable on any American machine. Extras including original theatrical trailer.