If You Haven't Seen It Uncut... You Haven't Seen It!
10 Minutes Longer Than ANY American Print!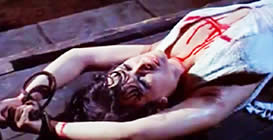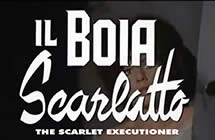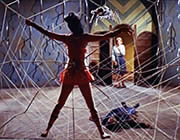 original Italian title: IL BOIA SCARLATTO [The Scarlet (Crimson) Executioner]
also known as BLOODY PIT OF HORROR [edited US version] and CASTLE OF ARTENA
and VIRGINS FOR THE SCARLET HANGMAN

director: Massimo Pupillo (as Max Hunter)
starring Mickey Hargitay · Walter Brandt · Louise Barret · Ralph Zucker · Rita Klein · Femi Benussi (as Femi Martin)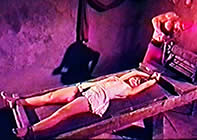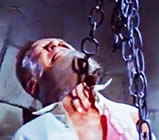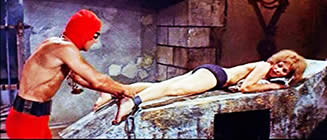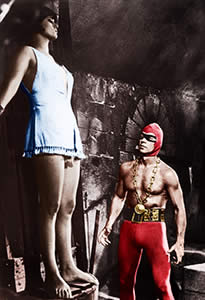 A photographer and his models go to an old, abandoned castle to shoot some sexy covers for horror novels. They don't know the castle is owned by a lunatic, Travis Anderson, who believes himself to be the reincarnated spirit of a 17th-century executioner [the Marquis DeSade?] who needs to protect the place against all intruders. The clearly insane Anderson takes it upon himself to spend the night torturing his houseguests in the castle's well-equipped dungeon.
Mickey Hargitay plays the Crimson Executioner with an uncommon zeal, certainly more intensely animated than characters in his earlier American films or even other demented Euro fare (like Renato Polselli's DELIRIUM). Hargitary, winner of 1955 Mr Universe World Competition, was married to sex queen Jayne Mansfield at the time. They were in Italy to make a film together, PRIMITIVE LOVE, when Massimo Pupillo approached him to make this movie during some of that project's down time. Now, finally, here is the opportunity to see the long-censored fully uncut version.
Mr Hargitay lost his wife in a tragic car accident a few years later. He continued acting in Euro, making mostly Spaghetti Westerns (eg, 3 BULLETS FOR RINGO). He died at age 80 in Los Angeles, September 2006.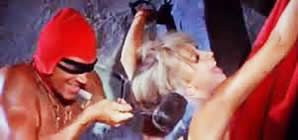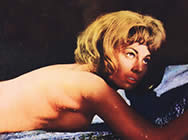 An Italian film in English language; widescreen format, fully uncut version (83 minutes),
DVD encoded for ALL REGION NTSC; extras include original European trailer.