SATAN'S SWORD TRILOGY
Triple Feature: Three Complete Films on 3 DVDs
starring Raizô Ichikawa
series directed by Kenji Misumi

triple feature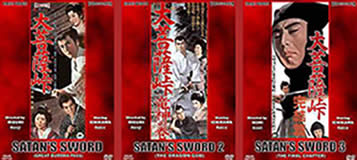 3 disc package
Film One: GREAT BUDDHA PASS (1960)
PLUS
Film Two: THE DRAGON GOD (1960)
PLUS
Film Three: THE FINAL CHAPTER (1961)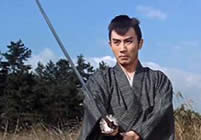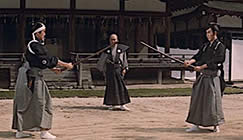 director: Kenji Misumi
starring: Raizô Ichikawa · Kôjirô Hongô · Tamao Nakamura · Tamao Nakamura · Fujiko Yamamoto
Japan's best known novel, The Great Bodhisattva Pass (the source material for SWORD OF DOOM) comes to life in this legendary masterpiece from famed director Kenji Misumi (the filmmaker who later directed the BABY CART FILMS [Lone Wolf And Child]). This sweeping actioner stars Raizo Ichikawa as Tsukue Ryunosuke, the devil swordsman with the evil fighting style called Otonashi no Kamae [Slent Stance].
Tsukue Ryunosuke is a powerful wandering swordsman who relishes in anonymously challenging naive opponents and then cruelly cutting them down. He leaves a trail of corpse across the landscape, but Ryunosuke is a complex character. Obviously, he has an evil streak coupled with a desire to kill, but he also operates with a sense of humanity and loyalty to certain people in his life. Raizo Ichikawa gives one of his best performances here in a very difficult role. Also, of special note, is Kojiro Hongo as his arch-enemy, the vengeance seeking Hyoma Utsugi looking for a showdown with Ryunosuke.
Raizo Ichikawa starred in 100+ films from 1955 until his death from hepatic metastases of colon cancer in July 1969 at age 37. Director Kenji Misumi, the illegitimate child of a geisha mother, also died young at age 54 from a heart attack September 1975, shortly after finished the fifth BABY CART film.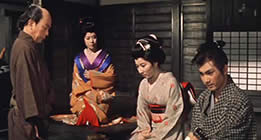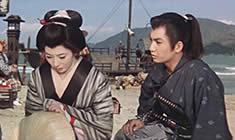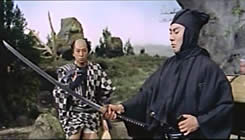 Adult Material/Graphic Violence/Sexual Brutality
Recommended for Mature Audiences
Three Japanese films with English subtitles; widescreen format, fully uncut versions (105+90+98 minutes),
DVD encoded for ALL REGION NTSC; on three DVDs