Someone is Killing a Call Girl's Clients in this Rare Giallo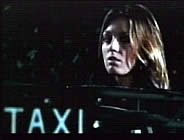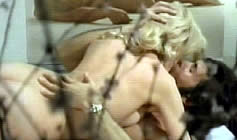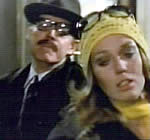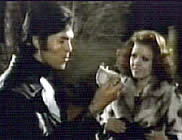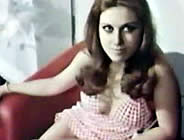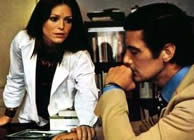 director: Demofilo Fidani
starring: Simone Blondel · Paola Senatore · Jerry Colman · Ettore Manni · Hunt Powers · Howard Ross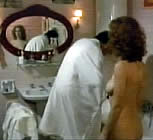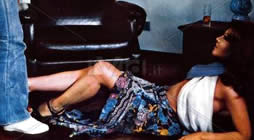 Paola Senatore plays Cristina, an 18-year old girl, who runs away from home to live on her own in the big city. Quickly, she decides that prostitution would help her lifestyle. Cristina places a 'masseuse' ad in the newspaper and begins turning tricks. But she's not very good at her new profession and after some unfortunate experiences, she falls under the wing of a pimp. Soon, the real plot develops. A cloaked figure with a straight razor emerges from the shadows and begins slicing up her clients. After a second and third slaying, the police get involved.
This is the debut project for actress Paola Senatore, an Italian brunette who averaged two films a year between 1972-87. She was best known for her erotic thrillers, including KILLER RESERVED NINE SEATS and LIKE RABID DOGS. She also made numerous sex melodramas like Joe D'Amato's masterpiece EMANUELLE IN AMERICA, IMAGES IN THE CONVENT, IN LOVE WITH SEX, et al. Her career ended abruptly in 1987 when she was arrested for possession and trafficking of drugs.
Simone Blondel (Simonetta Vitelli) is the daughter of this director Demofilo Fidani. She appeared in most all of his 20+ films. Here, as the head of the police task force, she fares better than usual. Filmmaker Fidani is a quirky director, known mostly for his use of splash colors and stilted narratives. He was called the "Ed Wood of Spaghetti Westerns" and would often hide behind an alias. Over the years, he signed movies as Dennis Ford, Slim Alone, Sean O'Neal, Danilo Dani, Nedo De Fida, Dick Spitfire, Lucky Dickinson, Nedo Fidano, Demos Filos and (his most popular) Miles Deem. Of his twenty films, 14 were westerns (best known for ONE DAMNED DAY AT DAWN: DJANGO MEETS SARTANA). Interestingly, A.A.A. MASSEUSE was the only film signed with his real name. Failing health forced him to retire from cinema in 1978; Mr Fidani died in March 1994 at age 80.
An Italian film with English subtitles; widescreen format (16:9), totally uncut version (85 min.), DVD encoded for ALL REGION NTSC, playable on any American machine. Include theatrical trailers.