A DRIVE-IN DOUBLE FEATURE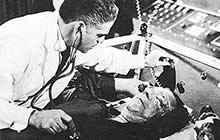 FACE OF THE SCREAMING WEREWOLF (1964)
PLUS BONUS SCIFI FEATURE
THE INCREDIBLE PETRIFIED WORLD (1959)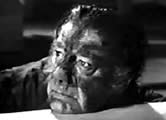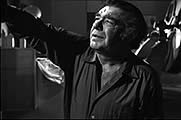 FEATURE ONE
FACE OF THE SCREAMING WEREWOLF (1964)
director of the English Version: Jerry Warren
director of the Mexican Version: Gilberto Martínez Solares
starring: Lon Chaney · Landa Varle · Donald Barron · Raymond Gaylord
Experimenting with hypnotic regression to past lives, Dr Edmund Redding in Pasadena California has discovered that Ann Taylor is a reincarnated Aztec woman. Through her recovered memories, Dr Redding and his associates discover a hidden chamber in the Great Yucatan Pyramid. There, they discover two mummified bodies: one of a dead modern man and the other of a living ancient Aztec. They return safely to Pasadena with both bodies, but a rival professor kills the doctor and steals the body of the modern 'man-mummy.' He conducts a resurrection experiment which revives the mummy who proves to be a werewolf.
Lon Chaney went to Mexico to make this film in 1964 after portraying a wolfman in numerous Universal creature features, dating back to 1941 when he starred in THE WOLFMAN. The original version of this new werewolf project was directed by Gilberto Martinez Solares; American director Jerry Warren re-edited the film and added an English narrative (which he had done previously with SANTO VS THE VAMPIRE WOMAN).

A Mexican film in English Language; fullscreen (4:3), uncut (62 min) in DVD encoded for ALL REGION NTSC, playable on any American DVD machine; Extras include trailer.





______________________________________________________________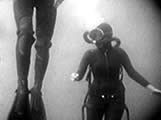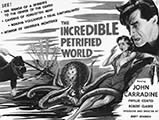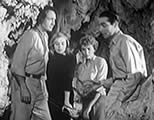 FEATURE TWO
THE INCREDIBLE PETRIFIED WORLD (1959)
director: Jerry Warren
starring: John Carradine · Phyllis Coates · Robert Clarke · Sheila Noonan
Before Jerry Warren began 're-directing' and 'Americanizing' Mexican productions (like the first entry in this double feature), he actually sat in the director's seat. Here is one of his early projects. Four adventurers descend to the depths of the ocean when the cable on their underwater diving bell snaps. The rest of their expedition, believing them to be lost, abandons hope of finding them. The diving party exits the diving bell and finds themselves trapped inside a network of underwater caverns.
An American film in English language; fullscreen format (4:3), uncut (70 minutes), DVD encoded for ALL REGION NTSC WORLD FORMAT. Extras include trailers