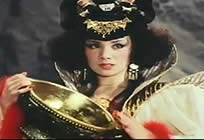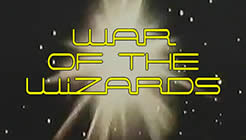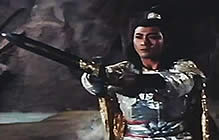 Original Taiwanese title: WU ZI TIAN SHI
also known as: THE PHOENIX
director: Sadamasa Arikaw (as Sam Arikaw) and Mei Chun-Chang (as Richard Caan)
starring Liang Hsiu-Shen (as Charles Lang) · Betty Pei-Ti (as Betty Nonoon · Chous Tse-Ming · Richard Kiel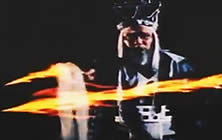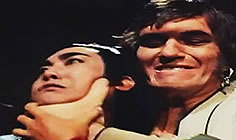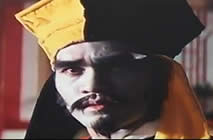 A space alien visits Earth and casts an evil spell over a poor fisherman named Tai who finds her magic book. Since the book makes whoever finds it rich, Tai soon becomes very wealthy but attracts many criminals who want his fortune and the book. Luckily for him, Tai is rescued from the violent bandits by two young women, Jasmine and Hyacinth. He marries them (yes, both) so they can always protect him. However, they also have devious plans to rob and destroy Tai. He is saved from them by a great, benevolent bird (that looks a lot like the GIANT CLAW) but now the fisherman is forced to face his biggest challenge... an evil supernatural witch named Flower Fox and her giant henchman (played by Richard Kiel).
The two directors each bring something unique to the production. Mei Chun-Chang was a director/producer for Taiwan's Kuo Hua Studio, closely working with Ching Ling for her epic fantasy WOLF DEVIL WOMAN. His partner here, Sadamasa Arikaw was a special effects cinematographer from Eiji Tsuburaya's Japanese studio. He worked on many of the classic Japanese films dating all the way back to the original GODZILLA. In 1976, he was hired by Shaw Bros in Hong Kong to do the Special FX for their MIGHTY PEKING MAN. A year later, he co-directed this film in Taiwan before returning to Japan. Mr Arikaw died from cancer in September 2005 at age 80.
Towering 7' 2" tall actor Richard Kiel cornered the market on playing monsters for 20 years on American television before being cast as the James Bond villain Jaws in The Spy Who Loved Me. Kiel was so popular in the role that he was brought back for the next Bond movie Moonraker. Obviously, the people behind WAR OF THE WIZARDS were attempting to capitalize on that fan-base for his co-starring performance here. By the mid '90s, his popularity had waned and he found himself in only a handful of films. Richard turned to instructional writing, penning a 'how to' autobiographical book called "Making it BIG in the Movies" (published in 2002). Mr Kiel died three days before his 75th birthday, September 2014, after a fall at home in which he broke his right leg. Some authorities believe he actually died from an overdose of anesthesia complicated by his bulk compared to his heart size.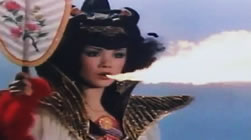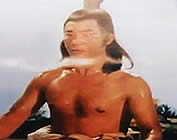 A Taiwanese film in English language; fullscreen format, uncut (75 minutes),
DVD encoded for ALL REGIONS NTSC; extras include various theatrical trailers.