Janine Reynaud & Howard Vernon in Gothic Sex/Horror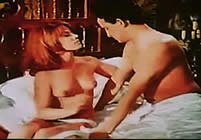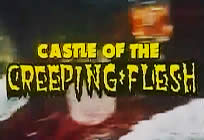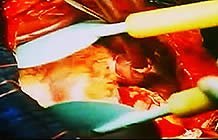 Original German title: IM SCHLOS DER BLUTIGEN BEGIERDE [In The Castle of Bloody Lust]
also known as: APPOINTMENT WITH LUST and CASTLE OF UNHOLY DESIRES
director: Adrian Hoven (as Percy G. Parker)
starring Janine Reynaud ˇ Howard Vernon ˇ Elvira Berndorff ˇ Michel Lemoine ˇ Jan Hendriks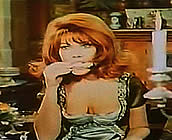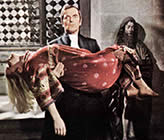 The film opens in the midst of a hedonistic party hosted by Baron Brack, an arrogant nobleman played by Michel Lemoine (he would a decade later reenact these same scenes and restructure the same character for his own film EVIL WEEKENDS OF COUNT ZAROFF which would also star Howard Vernon). So, Baron Brock and five of his party guests - including sexy sisters Vera and Elena - decide to go horseback riding, a decision which leads them to the castle of sinister Count Saxon (Howard Vernon playing a role decidedly similar to his legendary Dr Orloff). Some centuries ago, one of his ancestors lost a beautiful daughter, the victim of rape and abuse by savage men in the woods. Now, history is repeating itself as Count Saxon's own daughter has also recently been killed and raped. He and his loyal servants are attempting to resurrect the dead daughter but essential body parts from living humans are needed. Luckily for them, a drunken bunch of party animals have stumbled into the castle and soon onto the operation table.

A surprising amount of gore and nudity fill this 1968 movie. For years, a rumor circulated that Jesus Franco was the true director, working under the Percy G. Parker pseudonym. This rumor had traction because the style is very similar to Franco's work, the cast includes many Franco regulars plus it was produced by Aquila Films (the studio that financed many Franco films from this period). But eventually, Jesus Franco formally denied helming the movie; however he did admit to writing the script, adding that it was his brainchild based on a work by Shakespeare. In fact, the motion picture is directed by German filmmaker/actor Adrian Hoven who would go on the make MARK OF THE DEVIL and MARK OF THE DEVIL 2: WITCHES a few years later.
Janine Reynaud was a French high-fashion model until turning to acting at age 34 in the mid '60s. She starred in numerous Jesus Franco films including his Succubus earlier the same year. She later worked with Sergio Martino for his CASE OF THE SCORPION'S TAIL and with Bitto Albertini for MAN, MORE POISONOUS THAN THE COBRA. Her best performance is generally considered to be the woman with deep-rooted sado-sex issues in José Bénazéraf's FRUSTRATION (1971) which also starred Michel Lemoine. After that film, Janine married her leading man and they would make many films together until her retirement in 1978. Mr Lemoine died at age 90, July 2013. Janine Reynaud has since moved to an undisclosed location in the United States.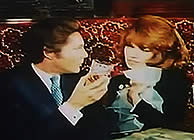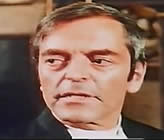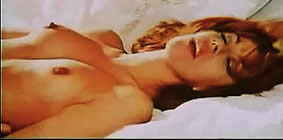 A German film in English language; fullscreen format, uncut (77 minutes),
DVD encoded for ALL REGIONS NTSC; extras include various theatrical trailers.