A War on Drugs with Fashion Models!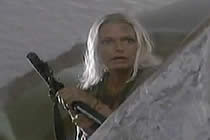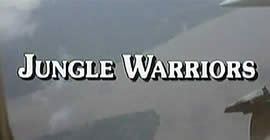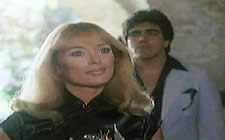 Original German title: EUER WEG FUHRT DURCH DIE HöLLE [Your Way Leads Though Hell]

director: Ernst R. Von Theumer
starring Nina Van Pallandt · Marjoe Gortner · Sybil Danning · Paul Smith · John Vernon · Alex Cord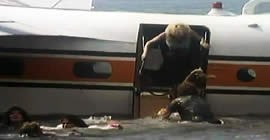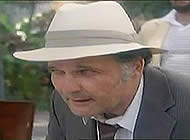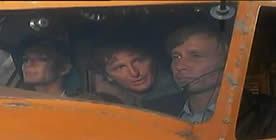 A group of models fly into a South American jungle searching for a unique photo location. Their plane is shot down and they are captured by a ruthless drug lord Cesar Santiago (Paul Smith) and his vile lesbian sister (Sybil Danning). However, in the confusion surrounding the arrival of a Mafia kingpin, the girls manage to acquire some heavy duty firepower and make a fierce stand against their captors.
What a mind-warpping cast of prime B-Actors gathered together for this German-made exploitation thriller! The original director was Billy Fine, a former producer with no directing experience. German producer Ernst R Von Theumer fired and replaced him when it became evident that he had lost control of his cast. In fact, Marjoe Gortner's role of Larry Schecter originally belonged to Dennis Hopper but Hopper was arrested by Mexican police for wandering naked around a village near the film shoot. He was fired and replaced by Gortner. [Later, Hopper said he had a drug problem and didn't even remember being arrested, let alone being fired from the picture.]
Ernst Von Theumer was essentially a German producer (MAGDALENA: DEVIL INSIDE THE FEMALE) who would occasionally helm a motion picture, usually with another director. He is probably best known for 3 BASTARDS AND SEVEN SINNERS made with Sergio Garrone. Today, Mr Von Theumer - in his 90s - has retired allowing his son Ernst Von Theumer Jr to manage the business.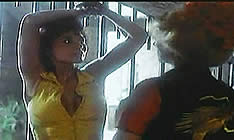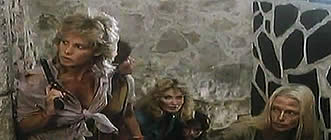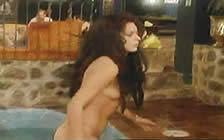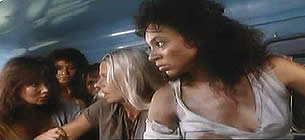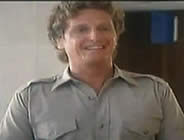 A German film in English language; widescreen format, uncut version (93 minutes),
DVD encoded for ALL REGIONS NTSC; extras include selected theatrical trailers.