The Most Extreme, Offensive, Fucked-Up Version of
Little Red Riding Hood
Yet Wildly Entertaining!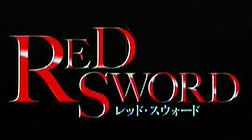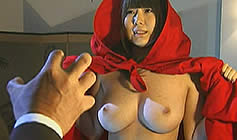 Original Japanese title: HONTO WA EROI GURIMU DOWA REDDO SHWODO
[An Erotic Version of the Grimm Fairy Tale: Red Sword]

director: Naoyuki Tomomatsu
starring Asami · Momoko Nishina · Tomoaki Sandan · Manzo Shinra · Natsuki Yonemoto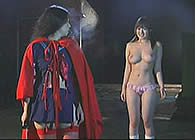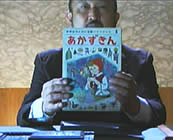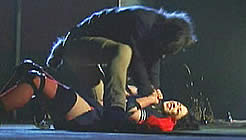 The Inugami are male bloodthirsty creatures born from the mating between wolves and gods. To survive and continue their species, they must rape human females. While the offspring is mostly male, sometimes a female is born. These 'mistakes' must be eliminated immediately otherwise they will grow to become Inugami hunters. One of these survivors is Azuki Beniko (her name translates to Red Riding Hood) and she spends her days [and nights] with her trusted red sword fighting against the wolf men. After discovering that a remote high school school has been infected by an inugami tribe, Beniko enrolls as an exchange student. She is soon overwhelmed by the sex-crazed creatures.
Director Naoyuki Tomomatsu broke onto the scene with his STACY: ATTACK OF THE SCHOOLGIRL ZOMBIES in 2001. Since then, he has made 45+ films including RAPE ZOMBIES and VAMPIRE GIRL VS FRANKENSTEIN GIRL. But, while his projects always drift towards extreme content, none of them approach the absolute offensively bad-taste dimension of this motion picture. Overall, it is wildly entertaining... but decidedly for adults only despite the fairytale source material.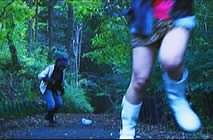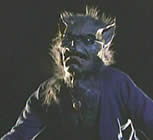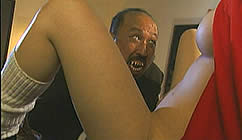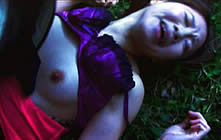 A Japanese film with English subtitles; widescreen format, uncut version (82 minutes),
DVD encoded for ALL REGIONS NTSC; extras include original theatrical trailer.