Directed by Umberto Lenzi; Written by Alberto Cavallone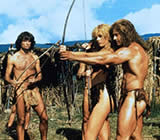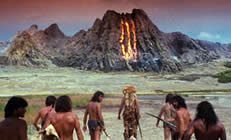 Original Italian title LA GUERRRA DEL FERRO [The War of Iron]

director: Umberto Lenzi (Humphrey Milestone)         written by: Alberto Cavallone
starring Sam Pasco · Elvire Audray · George Eastman · Pamela Prati (as Pamela Field) · William Berger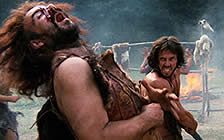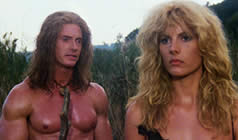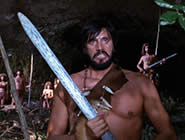 During a hunt, the Mogo tribe leader is murdered by one of his own people, an evil young tyrant named Vood. After getting banished by the tribe, Vood wanders into a remote area of volcanic activity and there he witnesses the natural formation of an iron bar. Using this weapon (and also armed with the knowledge of knowing how to create it) Vood becomes mad with power and begins a bloody mission to conquer all mankind... one tribe at a time. His life-long rival, Ela from Mogo, embarks on a mission against the insane warlord.
Umberto Lenzi planned this film as a thinly veiled allegory of Hitler's rise to power and he hired revolutionary filmmaker Alberto-Cavallone to write the script. Mr Cavallone, who was working on his own cannibal/prehistoric film at the time (FEMALE BARBARIANS OF THE KON TRIBE), took the script into a more horrific direction and Lenzi ran with it. Problems occurred when the staff realized their leading man, Sam Rasco, was struggling with his role. He had been a bodybuilder with no previous acting experience (in fact, this would be his only 'legitimate' film as he delved into gay porn and died a few years later from Aids). George Eastman - fresh from a series of villainous characters in Joe d'Amato films, including his legendary Grim Reaper role in ANTHROPOPHAGUS - fit snugly into the film as lunatic Vood. As a result, most of the movie was devoted to the villain, the true Ironmaster of the title, causing a major disconnect from Lenzi's original concept.
The two leading actress are especially noteworthy. This was the first starring role in a feature film for Pamela Prati. She would go on to become an erotic icon, headlining in a wide variety of cult films including SUKKUBUS, REFLECTIONS OF LIGHT, and the Lucio Fulci movie BLOOD MOON. Her costar here, Elvire Audray, had made Sergio Martino's thriller MURDER IN AN ETRUSCAN CEMETERY the previous year; she would star in the jungle/cannibal film AMAZONIA (White Slave) shortly after. Many European television series followed. But, sadly, Ms Audray committed suicide at age 40 in France, July 2000.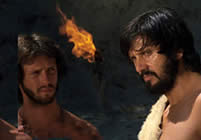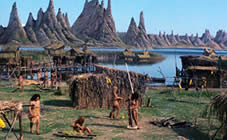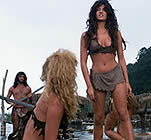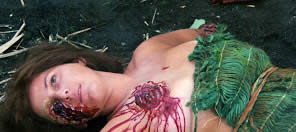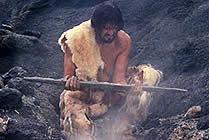 An Italian film, in English language; widescreen format, uncut version (90 minutes),
DVD encoded for ALL REGIONS NTSC; extras include original trailer.