A Remarkable Excursion into Cannibalism and Brutality
from Legendary Alberto Cavallone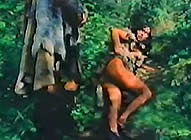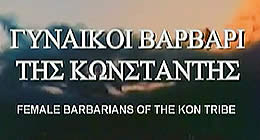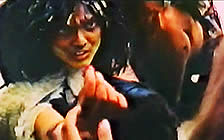 Greek Title: GYNAIKA VARVARI TON PERIVALLONTOS [Female Barbarians of the Kon Tribe]
Italian Title: I PADRONI DEL MONDO [Masters of the World]
German Title: LIEBEHEXEN DES RIO CANNIBALE [Love Witches of Rio Cannibale]

director: Alberto Cavallone
starring: Sasha d'Arc · Sven Kruger · Viviana Rispoli · Gina Giuri · Aldo Sambrell · Zaira Zoccheddu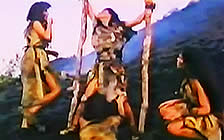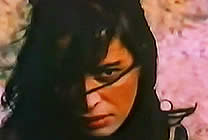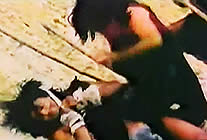 During the Golden Period of Euro Cult Cinema. There were many eccentric filmmakers. It is rumored that two were insane, Renato Polselli (especially exemplified during his hardcore period of REVELATIONS OF A PSYCHIATRIST ON THE PERVERSE WORLD OF SEX and OSCENITA) and Alberto Cavallone (THE MAN, THE WOMAN AND THE BEAST). Unlike Polselli who enjoyed a respectable early filmmaking career, Alberto Cavallone (sometimes using pseudonyms Baron Corvo and Dick Morrow) was an anti-establishment filmmaker who notoriously pushed the envelope in the name of avant garde cinema from the beginning. As his projects became more bizarre and ultimately inaccessible, he ran into distribution trouble. But he never compromised his incredulous vision. Alberto Cavallone's career stopped abruptly when he died from heart failure at age 59 in 1997.
This film - Cavallone's final theatrical release - takes place two hundred thousand years ago, when the human race had to "own" their brutal environment or disappear into oblivion. Essentially, the world is divided into two tribes, the Kon and the more savage Akray. The barbarian women of the Kon Tribe discover a hunter left to die in the wilderness. They rescue him and, in turn, he helps them against the Akray. But his true motives are less amiable.
This ugly production is one of the goriest and nastiest, loaded with decapitations, cannibalism, and torture. A few years later Sasha d'Arc would star in Antonio Climanti's GREEN INFERNO. This would be the final film for her co-star, Gina Giuri, fresh from Mario Siciliano's DANGEROUS LOVE. Zaira Zoccheddu - playing a member of the Akray Tribe here, had a more lucrative career which ended with her performance in the remarkable CROSS WITH 7 JEWELS.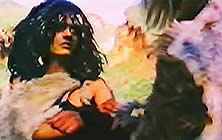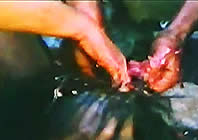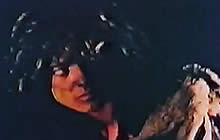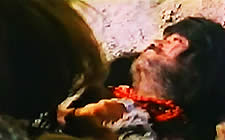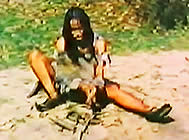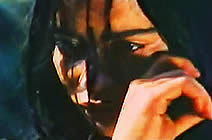 An Italian film in English language (aside from a brief opening, there is virtually no language spoken); widescreen format, fully uncut version (95 min.), DVD encoded for ALL REGION NTSC, playable on any American machine. Extras include selected trailers.