It's not human... And it's got an axe!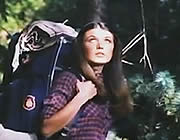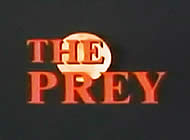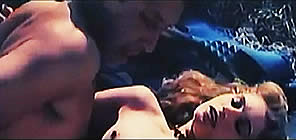 Fully Uncut Print (Including 25 minutes of Deleted Footage including Original Beginning)
director: Edwin Scott Brown
starring: Debbie Thurseson · Steve Bond · Lori Lethin · Robert Ward · Gayle Gannes · Jackie Coogan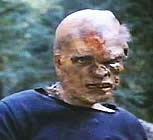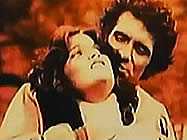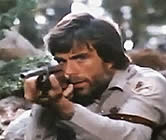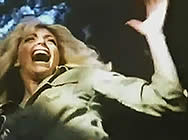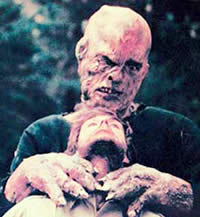 Six teens take a trip into the Colorado mountains for a weekend of hiking and rock climbing. But the soon fall victim to a badly burned cave-dwelling monster who would like to take one of the girls as his sex partner.

Director Edwin Scott Brown ran into unexpected distribution problems upon completion in 1977. Essex Productions (a short-lived Drive-In distributor) didn't like the final product and demanded cuts to the first half of the film. Brown refused and the movie sat on the shelf for six years, finally getting a theatrical release in 1984 with a different company, minus the opening. During this time, Mr Brown became disillusioned with the distribution system and turned to porn.
Under the alias Eddy Dewitt he made the quirky VELVET EDGE (XXX 1978). Other hardcore films followed - usually under pseudonym Edwin Durell - into the '90s
Of special note, the film features a very unusual cameo from Jackie Coogan (below left). In the 1920s, as a child actor, he was one of the five highest paid actors in Hollywood. By the 1930s - after reaching his mid teens - Jackie's star was fading. Reportedly in 1937, he asked his parents for his 4 million dollars but they refused to give it to him. The courts, instead, awarded Jackie $120,000 in 1939. Due to public uproar, California Legislature passed the Child Actors Bill (also known as the Coogan Act), which would set up a trust fund for any child actor and protect his earnings. Jackie Coogan found success again in 1964 as Uncle Fester on The Addams Family TV show. Lastly, he came out of retirement for the bit part in this film. It would be his final performance. He died from a heart attack in March 1984 at age 69.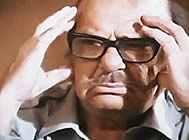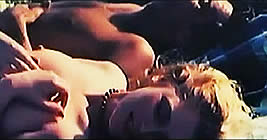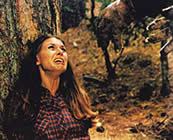 An American film, in English Language; fullscreen format, fully uncut (80 minutes plus 25 minutes
of deleted footage including the original beginning), DVD encoded for
ALL REGION NTSC WORLD FORMAT; extras include original theatrical trailer.