Mindi Miller stars in 'Xena-Warrior Princess' Amazon Fantasy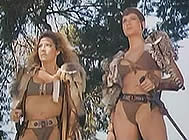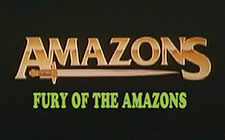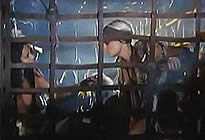 original Argentinean title: FURIA DE LAS AMAZONAS
also known as AMAZONS

director: Alejandro Sessa (as Alex Sessa)
starring: Mindi Miller (as Windsor Taylor Randolph) · Penelope Reed · Joseph Whipp · Danitza Kingsley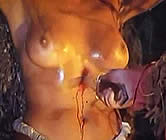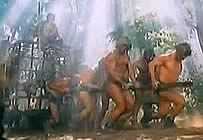 The tribe of Emerald Lands is defeated by an evil, powerful wizard named Kalungo. Since their traditional weapons were powerless against him and his invaders, their only hope for freedom seems to be the magic sword Excalibur. Amazon warrior Dyala receives a vision from the gods and now knows where the sword is hidden. She and Tashi embark on a quest to retrieve it. However, a traitor has informed Kalungo of their mission and - through his magic - he makes their mission increasingly dangerous.
Mindi Miller performed her own stunt work - with no body doubles - for this film. Over the years, she trained in karate, swordfighting, and horseback riding with her father Dave Kashner, one of the top Hollywood stuntmen. Ms Miller changed her name to Ty Randolph after this film and continued to specialize in exploitation films, including the terror flick RITES OF SPRING.

Filmmaker Alejandro Sessa was better known as a producer in his Argentinean homeland. He found much success with the long running television series El Arbol Azul [The Blue Tree] (200+ episodes since 1991). Mr Sessa died from heart failure at age 70 in July 1998.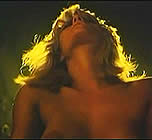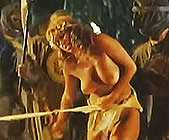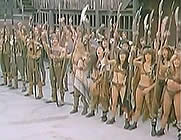 An Argentinean film in English language; fullscreen format, totally uncut version (77 min.), DVD encoded for ALL REGION NTSC, playable on any American machine. Extras include trailers.