Asami is a Vengeance Seeking Sukeban Hunter!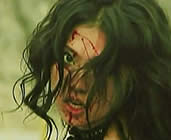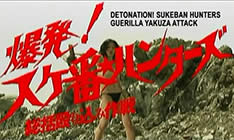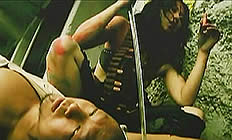 original Japanese title SUKEBAN HANTAZU: SOKATSU NAGURIKOMI SAKUSEN
[Detonation! Sukeban Hunters: Guerilla Yakuza Attack]
also known as YAKUZA HUNTER and YAKUZA-BUSTING GIRLS: FINAL DEATH RIDE!

director: Kazushi Nakadaira
starring: Asami · Rena Komine · Sakichi Sato · Masato Ken · Rumi Hiiragi · Yuki Matsumura · Yuuta Sone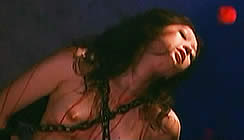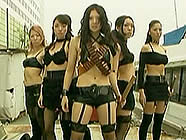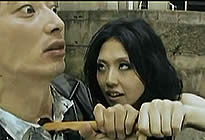 Mega starlet Asami (from GUN WOMAN, HORNY HOUSE OF HORROR, et al) plays a character named Asami. She is a delinquent street-gang leader who runs into trouble with the local Yakuza clan after her Lieutenant, Junko, joins the gangsters for a drug trafficking scheme. It seems that transport is easier if drugs are put inside a dead body and Junko is willing to provide as many girls as the Shoruo Clan needs. When Asami challenges Mistress Junko, she is tortured and left for dead. But Asami - literally - stumbles back from the grave and is nurtured back to health by surviving members of her old gang until they are ready to challenge Junko and her Yakuza henchmen in a massive showdown.
This is the debut project for director Kazushi Nakadaira after working behind the scenes for numerous Japanese projects (including DEAD SUSHI). On the set of SUSHI, he met special effects wizard Tsuyoshi Kazuno (TOKYO GORE POLICE, VAMPIRE GIRL VS FRANKENSTEIN GIRL, TAMAMI: THE BABY'S CURSE et al) and the two decided to work on this film together. Asami quickly became part of the mix. After making 40+ movies since MACHINE GIRL in 2008, she has become the Queen of Japanese extreme cult films. She lists GOTHIC AND LOLITA PSYCHO and EROTIBOT as her favorite projects.
A Japanese film with English subtitles; widescreen format, totally uncut version (93 min.),DVD encoded for ALL REGION NTSC, playable on any American machine. Extras include original theatrical trailer.