The Uncut Original 'Santo Vs The Blob' Print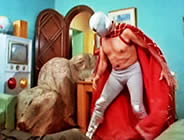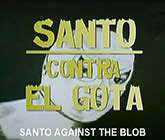 original title SANTO CONTRA EL GOTA [Santo Against the Blob] (uncut version)
re-released as SANTO CONTRA LOS ASESINOS DE OTROS MUNDOS in 1973
[Santo Against the Killer from Another World]

director: Rubén Galindo
starring: Santo ˇ Juan Gallardo ˇ Sasha Montenegro ˇ Carlos Agosti ˇ Patricia Borges ˇ Marco Antonio Campos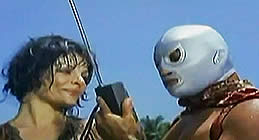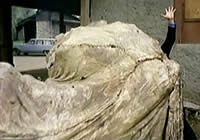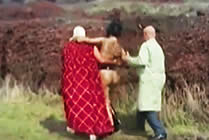 Santo, the crime-fighting superhero wrestler, battles the Blob (a gelatin creature capable of tripling its size daily) which seemingly has been created by Doctor Boris Licur an evil madman bent on world domination. The Blob is developed from moon-rock microbes and has the ability to dissolve flesh of its victims to the bone while leaving clothing intact (!). After Blob attacks reach epidemic status police commissioner O'Connor uses his Santo phone and calls the Silver Superman into action.
Director Ruben Galindo faced two major problems with his film:

First, Paramount/TriStar was not amused that their 'Blob' monster was being used in this unrelated Mexican knockoff and a Hollywood warning stopped the theatrical release. The movie would resurface two years later - with some minor edits - under the new title SANTO CONTRA LOS ASESINOS DE OTROS MUNDOS [Santo Against the Killer from Another World].
The second - and possibly more damaging problem - was Galindo's special effects and his accompanying budget. The pulsating Blob is merely a couple guys crawling around under Naugahyde blanket! Obvious human shapes can easily be detected during the Blob attacks. Irvin Yeaworth's original Blob in 1958 was infinitely more convincing. These effects are even as good as the 'rug' monster in Vic Savage's Creeping Terror (1964).
For much better Santo films, visit SANTO VS THE VAMPIRE WOMEN or SANTO AND BLUE DEMON VS THE MONSTERS. Director Ruben Galindo would recover from this disaster with CIMETIERE DE LA TERREUR [Cemetery of Terror].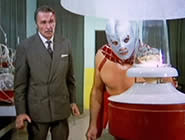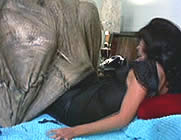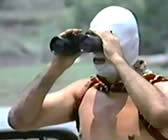 A Mexican film with English subtitles; widescreen format, totally uncut version (96 min.), small video emblem in upper right corner, DVD encoded for ALL REGION NTSC, playable on any American machine.
Extras include Santo trailers.