Barbara De Rossi's Breakout Role!
Fully Uncut (100 Minutes)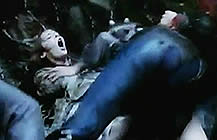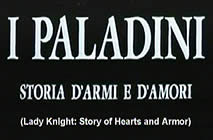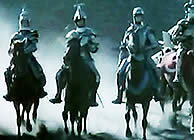 also known as HEARTS AND ARMOUR

director: Giacomo Battiato
starring: Barbara De Rossi· Tanya Roberts · Leigh McCloskey · Zeudi Araya · Ron Moss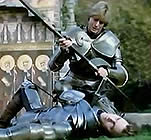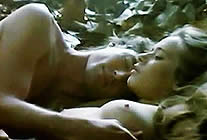 In the 12th century, Bradamante is attacked and raped by three outlaws in the wilderness. However, she's rescued by a mysterious knight who gives her an invincible suit of armor for protection. Bradamante - now Lady Knight - continues raveling the countryside but soon ends up in the middle of a web of romantic and cultural tangles. In the midst of the religious Crusade against the pagans of the Middle East, she finds herself falling in love with a Moor prince. Meanwhile one of her Christian knights has become romantically involved with a Moor princess. Others, however, are violently opposed to the cross-cultural romance, and the Lady Knight is forced into a deadly duel to the death.
Barbara De Rossi (playing Bradamante here) is a popular genre actress who has starring in 60+ productions since 1980. She is best known for Franco Ferrini's SWEETS FROM A STRANGER, Klaus Kinski's NOSFERATU IN VENICE and Claude Charbol's interpretation of Henry Miller's scorching book QUIET DAYS IN CLICHY. Born in August 1960, Ms De Rossi has now moved into mostly European television projects. Currently she plays the role of Fania Salice in the Italian series L'Onore e Il Rispetto [The Honor and The Respect].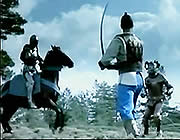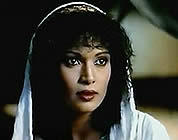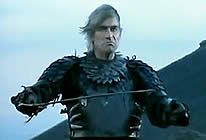 An Italian film in English language; fullscreen format, totally uncut version (100 min.), DVD encoded for ALL REGION NTSC, playable on any American machine. Extras include trailers.