"People of the World, Behold the New Superhero from Japan..."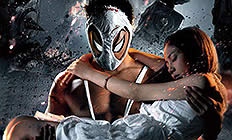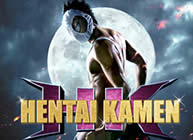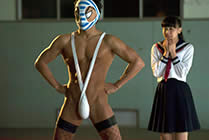 Original Japanese Title: HK: HENTAI KAMEN [Pervert Mask]
Also Known As FORBIDDEN SUPER HERO
director: Yaichi Fukuda
starring: Ryohei Suzuki · Fumika Shimizu · Tsuyoshi Muro · Ken Yasuda · Shun Oguri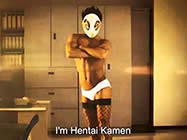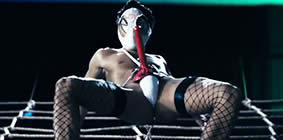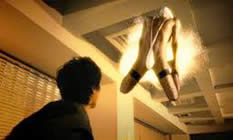 "His father was a lawman. His mother was a bondage queen.
His destiny was to put panties on his head and fight for justice!"
One day, while trying to rescue his girlfriend Aiko and other hostages during a particularly nasty bank robbery, Kyosuke accidentally discovers that by putting women's panties on his head he can transform into a powerful superman, clad only in his unconventional mask, fishnet stockings, and a skimpy codpiece. Kyosuke saves the day. He's called 'Hentai Kamen' (Pervert Mask) by the Press and proudly accepts that moniker. Kyosuke embarks on a mission of fighting crime while struggling with his 'inner pervert' but ultimately tries to win Aiko's affections. Things become more complicated when the mysterious Ogane Tamao attempts to take over Kyosuke's high school Karate Club, enlisting the help of teacher Towatari from the dark side.
Director Yaichi Fukuda has spent the past decade helming television shows designed for kids [Saturday Night Child Machine, High School Debut, Tokyo Dogs, Kids Police, etc] and (in a bizarre counter-punch) directing this underground franchise. Based on Keishu Ando's 1992 manga HK - and also inspired by Go Nagai's female LEGENDARY PANTY MASK (1991) - this film embellishes surprisingly slick production values and a much higher budget than expected. Here is a very effective spoof on the superhero genre as Hentai Kamen challenges an array of unusual villains including a Fake Hentai Kamen, a notorious serial lifter of women's skirts.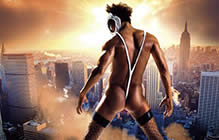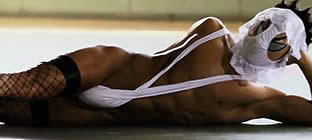 A Japanese film with English subtitles; widescreen format (16:9), uncut (101 minutes)
DVD encoded for ALL REGION NTSC FORMAT; extras include original theatrical trailer.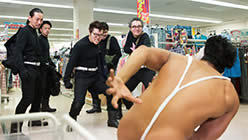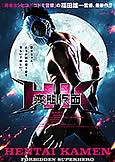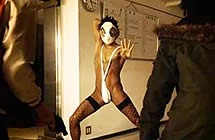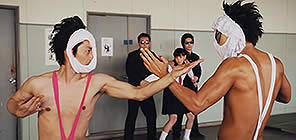 Violence/Sexual Situations