The First Hollywood-Financed Film With Nudity (1958)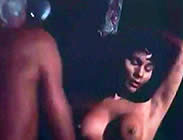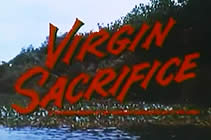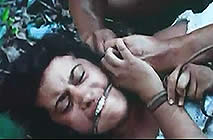 Also Known As: FURY OF THE JUNGLE

director: Fernando Wagner
starring: Dale DaLie · Antonio Gutierrez · Algelica Morales · Fernando Wagner · Linda Cordova · Lydia Goya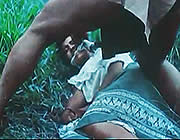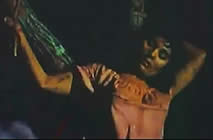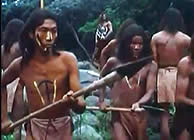 In the 1920s, several States were concerned about obscenity in motion pictures and they set up censorship boards. This caused the Motion Picture Association of America (MPAA) to create its own censorship agency in 1930 which became known as the Hayes Commission (or the Hayes Act). Any film had to be approved by this committee before it could be shown theatrically. The Hayes Act was so strict that even cleavage was considered objectionable. In 1958, the New York Court of Appeals ruled that "a film that merely contains nudity was not obscene." This decision soon put an end to the Hayes Act and the MPAA began a rating system. Officially, the first mainstream film to feature nudity was Russ Meyer's Immoral Mr Teas (1959). But unofficially, this adventure movie - flying under the radar in 1958 - was actually the first. As a result, Linda Cordova was the first actress to show her breasts in a Hollywood financed film.
Here is the fully uncut print of this historic motion picture telling the story of white hunter named Samson who goes into the South American jungles, where he meets pretty Morena, a colleague's daughter. A native from a indigenous tribe arrives in the village and picks Morena to be the annual virgin sacrifice. He and his tribe kill drag her off into the jungle, spurring Samson to rescue her.
Director Fernando Wagner was a Mexican actor (since 1935) who had the opportunity to direct this film for an American agency that represented Dale DaLie. After proving himself with this movie, Fernando was given a contract to helm Mexian soap operas for Telesisterna Studios, a position that he held until his death (from an automobile accident) in September 1973. He was 67 years old.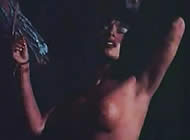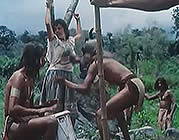 An American/Mexican film in English language; fullscreen format (4:3), uncut (64 minutes)
DVD encoded for ALL REGION NTSC WORLD FORMAT; extras include theatrical trailer.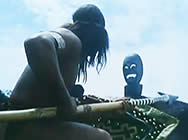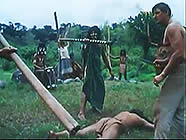 Violence/Nudity/Sexual Brutality
For Mature Audiences Only