George W Bush in a Japanese Sex Film!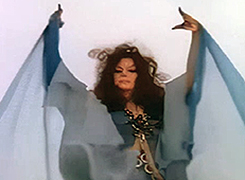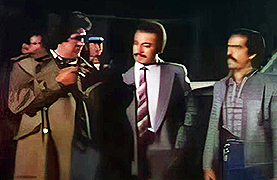 THE GLAMOROUS LIFE OF SACHIKO HANAI
Original Title: HATSUJ KATEIKY-SHI SENSEI NO AIJIRU
[Horny Home Tutor: Teacher's Love Juice]

director: Mitsuru Meike and Takao Nakano
starring: Emi Kuroda · Yukijiro Hotaru · Takeshi ito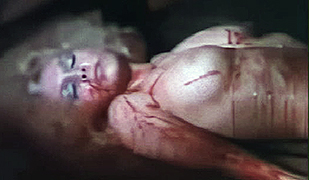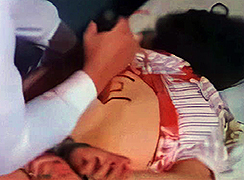 Yeah, this is a Japanese Pink Film. That means there's a sex-scene every 10 minutes or so. And yeah, these are not homogenized sex scenes (although soft core, they are nasty, sometimes meanspirited with lots of pumping, puncuated with explosions of cum).

But surrounding the prerequisite sex is this jaw-dropping plot:

Sachiko Hanai is a prostitute who specializes in teacher-student role-playing (thus the original title Horny Home Tutor: Teacher's Love Juice). During a coffee-break at a corner cafe, she becomes the victim of a shootout, getting shot squarely in the forehead. She continues to live (and turn tricks) despite the lethal hole in her head. Only now, her IQ has gone through the roof and she engages in philosophical discussions with genius professors. Then... she finds George W. Bush's cloned finger in a cigar case. President George W [the movie is set in 2006] appears on TV, talks about the Iraq War and the "Bush Technique" while giving her the finger (sexually, of course). Before long, a North Korean agent kidnaps Sachiko and Bush's finger. The bad guy hopes to use the finger to activate a remote nuclear weapon hidden inside a nearby cave.
See the movie; melt your brain.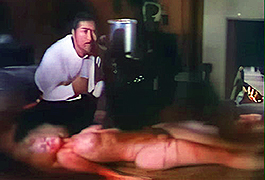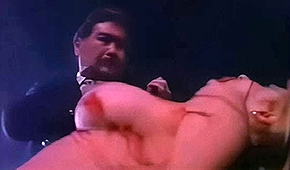 A Japanese import; widescreen (2.35:1), uncut (90 min.) version in DVD encoded for ALL REGION NTSC, playable on any American DVD machine; in Japanese language with English subtitles; lots of extras including original theatrical trailer.

Violence/Adult Material/Full Frontal Nudity/ Gore/Graphic Simulated Sex Scenes
For 18+ only