Bizarre. Odd. Outlandish. And Awful.
Mega Rare Asian Cult Cinema.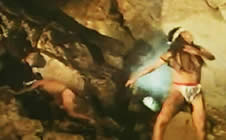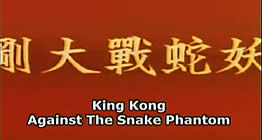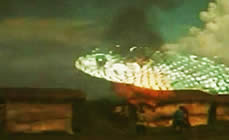 Original Taiwanese Title translates to: WAR OF GIANTS AND SNAKE PHANTOM

director: Man Kun Boa
starring: Oi Wai Nai · Hong Yu · Fung Hong-Moan · Chung Tai Il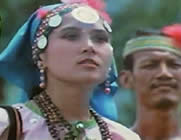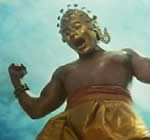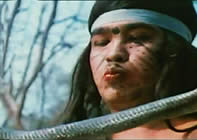 This Taiwanese/Samoan coproduction is bizarre, odd, outlandish and awful on many, many levels. The disjointed plot deals with a gang of outlaws who prey on weak farming villages, usually waiting for the menfolk to migrate to the fields. The outlaws raid the impoverished community, rape the woman, steal any valuables and slaughter everybody. After one such raid, a victimized husband seeks supernatural help and becomes indebted to the gargantuan snake warrior who eventually challenges another giant (King) Kong in a death match. Meanwhile, the village is also under attack by monstrous translucent serpent.
Very little is known about this wildly inept martial-arts monster movie. It was produced in Taiwan with some footage shot in Samoa. The director reportedly also made a film called Innocent Nymphs which dealt with 'forbidden' religious rituals of a primitive jungle tribe. Oi Wai Nai (upper left pic) starred in both movies.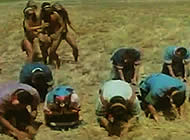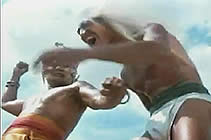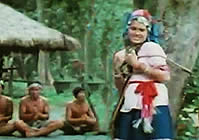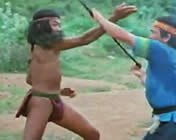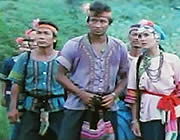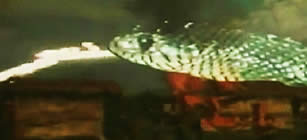 A Taiwanese/Samoan coproduction, Chinese language with English subtitles; fullscreen format (4:3), uncut (92 minutes), DVD encoded for ALL REGION NTSC WORLD FORMAT; extras include selected theatrical trailers.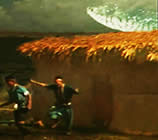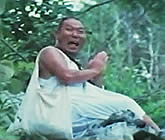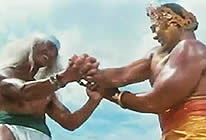 Violence/Rape/Sexual Situations
recommended for Mature Audiences