Vacationing Teens Stalked by a Resurrected Sex Killer
(Sorta Like Baywatch with a Crazed Madman)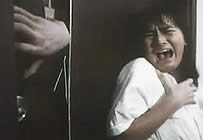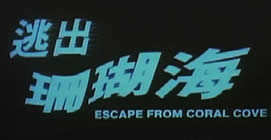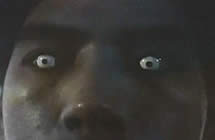 Original Chinese Title: TIU CHUT SAN WOO HOI

director: Terence Chang (as T. Chang)
starring: Elsie Chan · Alex Fong (as Alex Fu Lik) · Tan Bee-Lee · Louis Kong · Roy Cheung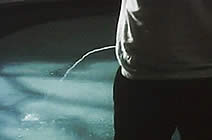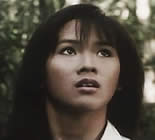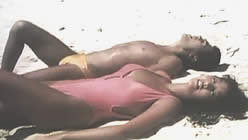 The rather generic title hides this diamond-in-the-rough horror tale. When a drunkard urinates on sacred ashes (see above left) an evil sex killer is resurrected from a watery grave in the Coral Cove Lagoon. The ghostly creature begins stalking unsuspecting teen vacationers, particularly Irene and Alex, plus their nubile friends.
This oddity is the only film directed by Terence Chang. He is better known as a producer, having worked in that capacity for every John Woo film (including Woo's American projects) since ONCE A THIEF. The film was also the debut project for the two leads, Elsie Chan [she'd star in another 20+ including CALL GIRLS] and Alex Fong who would make over 100 films in the next 40 years including the legendary cult movies ESCAPE FROM BROTHEL, IRON ANGELS, BEHIND THE PINK DOOR and BEAUTY EVIL ROSE.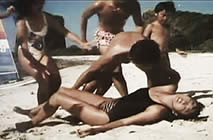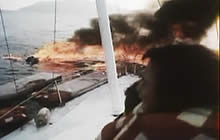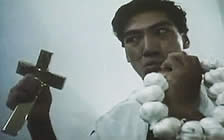 A Hong Kong film with Chinese/English subtitles; widescreen format (16:9), uncut (82 minutes), DVD encoded for ALL REGION NTSC WORLD FORMAT; extras include selected theatrical trailers.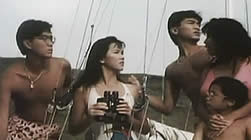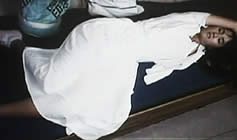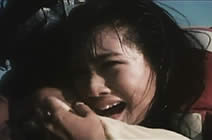 Nudity/Graphic Violence/Sexual Brutality
recommended for Mature Audiences