Lang Jeffries and Essy Persson in Legendary SciFi Actioner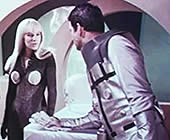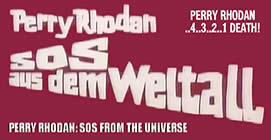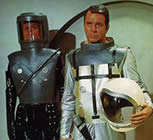 Original Italian Title: PERRY RHODAN: ..4..3..2..1 MORTE! [Perry Rhodan: ..4..3..2..1 Death!]
also known as MISSION STARDUST and SOS FROM THE UNIVERSE

director: Primo Zeglio
starring: Lang Jeffries · Essy Persson · Joachim Hansen · Ann Smyrner · Hermann Nehlsen · Louis Davila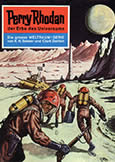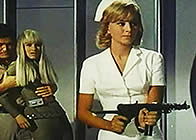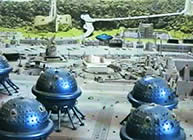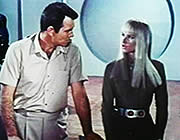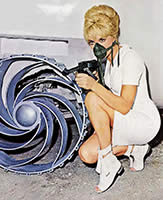 A team of astronauts is sent to the moon to rescue an alien who is seeking help to save her dying race. They are attacked by a force of bandit robots and discover that enemy spies are out to kill the alien.
    Based on a series of popular Euro SciFi Digest Booklets (see above left) written by Clark Darlton and Karlheinz Scheer. A new issue would appear at least once a month for over 40 years; it is believed that over 1.3 billion books were published. Interestingly, the name of neither author appears in the credits, a decision that spawned numerous lawsuits and kept this film from receiving a wide release. It stars Lang Jeffries (best known for his numerous peplums including ALONE AGAINST ROME) and Scandinavian actress Essy Persson who found International success with the controversial films I, A WOMAN and THERESE AND ISABELLE.
An Italian film, in English Language; widescreen format, fully uncut (89 minutes),
DVD encoded for ALL REGION NTSC WORLD FORMAT; extras include theatrical trailers.