A Boy tries to Rescue the Ginseng King from the
Evil Three Headed Monster to save his mother,
who has been bitten by a Nazi zombie!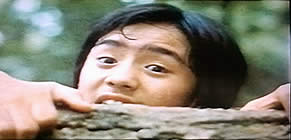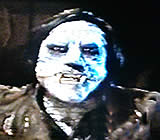 Original Chinese Title: SAN TOU MO WANG
Taiwanese Title: THE GINSENG KING Hong Kong Title: THREE HEADED MONSTER

director: Wang Chu-Chin with Rotar Ru-Tar
starring: Cynthia Khan · Ying Chieh Chan · Chi Ming-Yu · Shun Chien · Jen Fan · Jen Hsun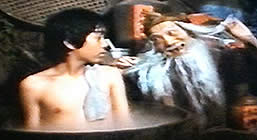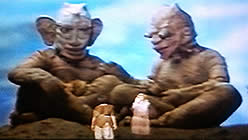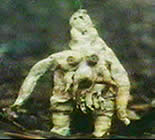 It's a 'Gotta-See-It-To-Believe-It' experience. Arguably, this is one of only a handful such films in the annals of Cult Cinema. The plot has to do with the resurrection of a 1000-year old Ginseng King (looking a lot like a walking tree with bug eyes) who is kidnapped by henchmen of a three-headed monster. A young boy living in the forest sees the abduction. Unfortunately, his mother is bitten by a Nazi zombie and she can only be saved by the Ginseng King's magic. The boy, with the aid of an old sorcerer, goes after the Ginseng King and hopes to rescue him from the monster and save his mom.
This Taiwan fantasy was directed by Wang Chu-Chin, an established film editor (usually working under the pseudonym Jo Jo Wang) who actually helmed very few films. This one was shot mostly on location in Thailand where he was assisted by a local Special FX student, Rotar Ru-Tar. Interestingly, this motion picture was one of the first projects for actress Cynthia Khan (playing the mother here); within the following decade she would become one of the top action stars in HK cinema (best known for her In The Line of Duty franchise and the Yes! Madam series).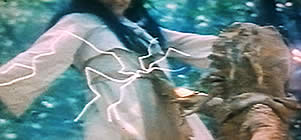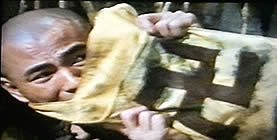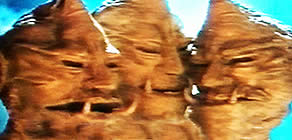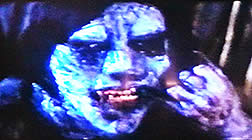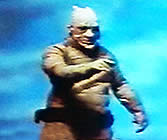 A Taiwanese film with Chinese/English subtitles; widescreen format (16:9), uncut (85 minutes), DVD encoded for
ALL REGION NTSC WORLD FORMAT; extras include selected theatrical trailers.