The Legendary Extravaganza now with English Subtitles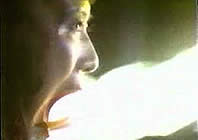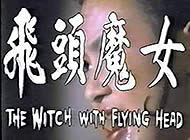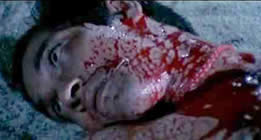 Original Taiwanese Title: FEI TOU MO NU [Woman with Flying Head]

director: Chang Jen-Chieh
starring: Chen Hsiu-Chen · Liu Shang Chien · Chang Ma · Chin Ling-Tzu · Mei Hua Chen · Han Chang Hu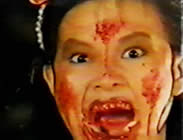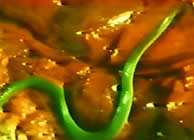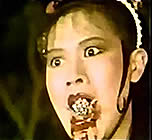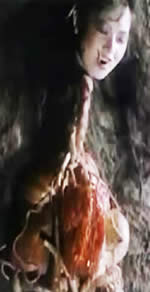 The concept of a flying head has roots in Asian folklore and can be traced back to the Malay Peninsula. The monster is called a Penanggalon. This is not a cleanly chopped flying head; rather, the spinal column and all internal organs are still attached. According to the legend (this film) - even though the head would detach itself from the body [to return after a night of hunting] - the Penanggalon would maintain control over the organs, using them to maneuver and latch hold of a victim. The same creature would later be featured in the Filipino movie MYSTICS IN BALI (1989).
The plot here deals with Yu Chun, the sickly daughter of a wealthy landowner. During a seizure, a mysterious visitor offers medicine which instantly makes her feel better but he soon reveals that the medicine is actually a poison that will turn her into a flying monster. This evil man withholds the antidote unless she agrees to marry him. But Yu Chun refuses. The man leaves and she becomes a Penanggalon. Eventually, a mystic helps her curb the effect [reducing the transformation to once a month], and Yu Chun takes her servants to a new life in the wilderness where she is less likely to cause trouble. But bloody trouble finds her when a Sex Witch - roaming the countryside to seduce and kill travelers - invades Yu Chun's home to snatch her new boyfriend, Tang.
Many sources (including the IMDB) list this as a 1977 production. This is not possible. The soundtrack blatantly includes music borrowed from later films, most noticeably The Black Hole (1979), Conan the Barbarian (1982) and Star Trek 2 (1982). So, the movie was obviously shot sometime after 1982.
A Taiwan/HK film, with English subtitles; widescreen format, fully uncut (92 minutes),
DVD encoded for ALL REGION NTSC WORLD FORMAT; extras include theatrical trailer.