Fully Uncut Print of Antonio Margheriti's Sado/Horror Masterpiece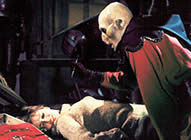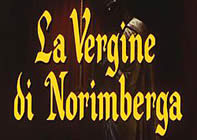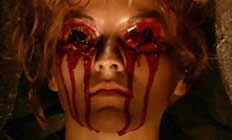 Original Italian Title: LA VERGINE DI NORIMBERGA [The Virgin of Nuremberg]
also known as HORROR CASTLE (edited version) and CASTLE OF TERROR

director: Antonio Margheriti (as Anthony M Dawson)
starring: Rosana Podesta · Georges Riviere · Christopher Lee · Jim Dolen · Anna Delli Uberti · Luciana Milone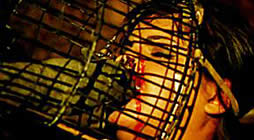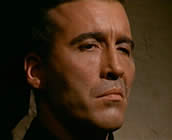 Women are being tortured to death with various devices in the dungeon of an old castle by a deformed, hooded, holocaust survivor in Antonio Margheriti's notorious horror masterpiece. After helming numerous sword-n-sandal films (e.g., THE FALL OF ROME), Margheriti turned his attention to the booming horror genre with this project. The quirky story - based on a novel by Frank Bogart - deals with Mary (played by Rosana Podesta, a familiar face in the Italian Peplums like 1962'S ALONE AGAINST ROME), a woman who has recently married Max Hunter and moved to a family castle in Austria. Despite the gothic characteristics of the film [thunderstorms, secret passages, medieval torture devices, as well as an old creepy castle], the story takes place in the present. The Gothic castle holds many secrets and one stormy night Mary watches as a woman is murdered inside a torture devices known as the Virgin of Nuremberg. Her husband believes she merely had an hallucination since there is no proof of a murder. She's convinced that a family friend named Erich is somehow responsible, but then Mary begins to notice that the castle may be haunted by a mysterious figure known as the Punisher.
This was the first horror production for Antonio Margheriti, a filmmaker generally accepted as one of the ten best European Cult directors. He made 60 movies between 1960 and 2000 and is best known for the sexy Spaghetti Western STRANGER AND THE GUNFIGHTER and the notorious horror film NAKED YOU DIE. Mr Margheriti died from heart failure at age 72 in November 2002.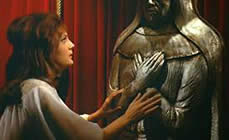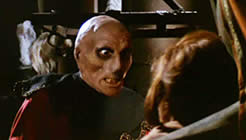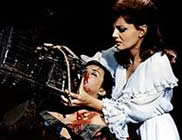 An Italian production in English language; widescreen format (16:9), uncut (84 minutes), DVD encoded for ALL REGION NTSC WORLD FORMAT; extras include original theatrical trailer.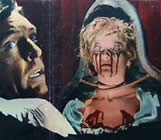 Adult Material/Gore/Graphic Violence/Sexual Brutality
Recommended For Adult Audiences