Malu stars in Lorenzo Onorati's UltraRare Sleaze Masterpiece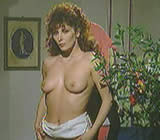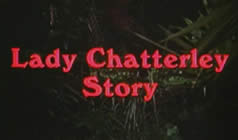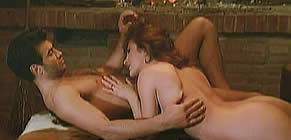 Original Italian Title: LA STORIA DI LADY CHATTERLEY [Lady Chatterley Story]
director: Lorenzo Onorati (as Lawrence Webber)
starring: Malu · Maurice Poli · Carmen Di Pietro · Bruce Williams · Carlo Mucari · Micaela · Jose Davi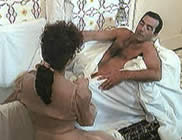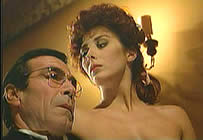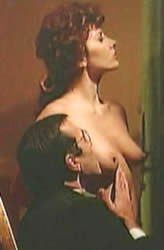 Much confusion surrounds this film. It is NOT the same movie as LOVES OF LADY CHATTERLEY (even though the IMDB incorrectly thinks so). Perhaps the confusion comes from Malu starring as Lady Chatterley in both films. Or maybe it's because Frank Di Niro [Pasquale Fanetti] directed that one and acts as the cinematographer/assistant director this time. But regardless of the reason, these are two completely different projects.
Here, director Lorenzo Onorati delivers a mega-sleazy adaptation of D H Lawrence's notorious book. The film opens with the death of Sir Chatterley and reading of his will. Despite a rocky marriage, his wife Constance has inherited his entire fortune. The film is a collection of her memories as she invites an ex-lover Herbert to visit the estate and together they reminisce. As the story builds from one outrageous encounter to the next, it becomes obvious that Lady Chatterley has an ulterior motive for requesting the visit. It has something to do with Herbert [actually D H - David Herbert - Lawrence] and a sadistic lesbian lover he had sent to the estate as Sir Chatterley nurse.
An Italian film, with English subtitles; widescreen format, fully uncut (81 minutes),
DVD encoded for ALL REGION NTSC WORLD FORMAT; extras include theatrical trailers.