Amazon Divas... Lesbian Sex... and Nude Catfights: The War Goddess
FINALLY! THE FULLY UNCUT 101 MINUTE PRINT!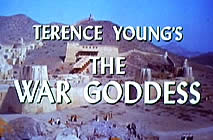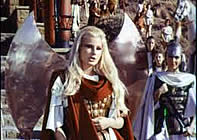 Original Italian Title: LE GUERRIRE DAK SENO NUDO [Wars In The Nude]
This Uncut Print is Under the Name: THE AMAZONS

director: Terence Young
starring: Alena Johnston · Sabine Sun · Helga Line · Rosanna Yanni · Malisa Longo · Angelo Infanti · Luciana Paluzzi
Here's the story of Amazons living - without men - in the age of swords and chariots. As the film opens, the tribe is holding a contest to select a new queen. The final conflict is ultimately between Antiope and Oreitheia; it is eventually settled in a [nude] catfight. Blonde Antiope becomes the new queen. Since there are no men in their community, they hire suitors from another nation once a year in hopes of becoming pregnant and thus ensuring the continuation of their tribe. The Amazons go to meet a group of Greek soldiers for their annual mating ritual. A Greek merchant pretends to be a Captain so he can have sex with Queen Antiope. Much to her dismay, she actually [for the first time] enjoys the sexual encounter. This leads to unexpected challenges and blood on the battlefield.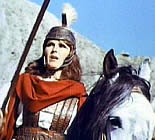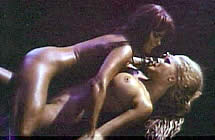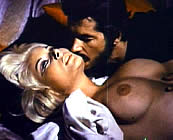 The two leads - Alena Johnston and Sabine Sun - didn't like each other in real life. Ms Sun, a veteran French actress starring in over 40 movies AND dating the director Terence Young, felt that Ms Johnston was woefully inexperienced and not deserving of top billing. While it is true that Alena Johnston had a very shallow filmography, limited to only a small 'walk-on role' in Funny Girl, some insiders believe that the hatred was more deep-rooted involving some romantic entanglements between Alena and the director. Regardless of the reason, that friction was the catalyst for one of the most realistic catfights in cinema.
Director Terence Young helmed a series of nondescript "B" actioners in the Fifties (with interchangeable titles like Safari, Action of the Tiger, Tank Force, Paratrooper) for British Warwick Studios. That production company was owned by producer Albert Broccoli, the man who purchased the James Bond rights from Ian Fleming in 1960. Terence Young was tapped to direct Dr No in 1962. He would also make From Russia With Love and Thunderball before forming his own production facility. Mr Young died from lung cancer at age 77 in September 1994.
Actress Sabine Sun was the wife of director Terence Young for twenty years, married shortly after the release of this film until his death in 1993. She made a couple British comedies (e.g., What's New Pussycat?, 1965) before moving to Europe for a lucrative career of 40+ films which included some Spaghetti Westerns (SARTANA) and the French thriller SADISTIC HALLUCINATIONS (1969).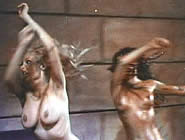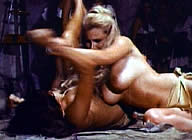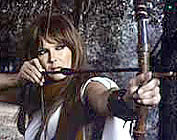 An Italian/British co-production in English language; widescreen format (16:9), uncut print (101 min.), DVD encoded for ALL REGION NTSC, playable on any American machine. Extras include trailers.