A Fearless and Confrontational Live Performance
by Klaus Kinski (November 20, 1971)
One of the Most Amazing Video Performances You Will Ever See!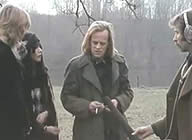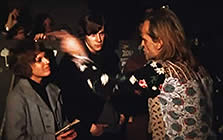 director/editor: Peter Geyer
a live performance written by and starring: Klaus Kinski

This exceptionally rare footage was edited by Peter Geyer from film shot by Kinski's crew in 1971.
It is an amazing document of a great performer stressed to the breaking point under unusual and very trying circumstances. Here is a lost performance of an utterly insane yet wildly brilliant Klaus Kinski.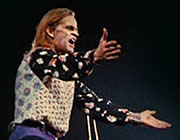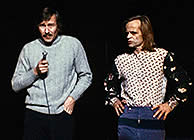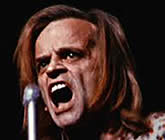 After completing 11 movies in 1971 (including the classics BLACK KILLER, THE BEAST KILLS IN COLD BLOOD (SLAUGHTER HOTEL) and VENGEANCE IS A DISH SERVED COLD), Mr Kinski decided to return to his roots. Even the most rabid Kinski fans don't know that he started his career as a narrator (making phonograph records of world literature, often touring Europe with his recitations). That stage work had led to film offers which abruptly halted his literature readings. However, in 1971, Klaus decided to return to live performance.

He rented the Deutschlandhalle in Berlin Germany and organized a live show for November 20. It was promoted as "Kinski Jesus Christ Savior" and consisted of his own text and quotes from the New Testament. Klaus was so full of hope that this would be the beginning of a new chapter in his career that he hired cameramen and an audio crew. The concert was a full house with 5000 people in attendence. But nobody knew exactly what they were coming to see. Was this pro-Jesus, anti-Jesus or Klaus Kinski claiming to be Jesus? He attracted an audience of mostly young people - the counterculture generation - but they quickly discovered this 45 year old man had little in common with them.
The hecklers begin almost immediately and don't stop for the rest of the official performance. Most insults are aimed at Kinski and his lifestyle. Often he stops the show and gets into an obscene shoutng match. He leaves the stage several times, swearing not to return, only to come back more intense than before. Eventually, Kinski calls the evening off but some of the audience members won't leave the theater. He returns to the stage at 2 o'clock in the morning and completes the performance for couple hundred remaining people.
It is unknown how many movies contain a performance by Klaus Kinski. Most sources suggest between 140-160, but Mr Kinski scoffed at that number claiming a much higher (225) as closer to accurate. "If they pay me, I'll make the movie. Just don't expect me to work for more than 3 days. And no second takes" he famously said during a 1977 television appearance, "Making movies is better than cleaning toilets. So I sell myself, for the highest price. Exactly like a prostitute. There is no difference." Mr Kinski died at age 65 in November 1991.

A German production with English subtitles; Fullscreen format (4:3), uncut (91 minutes),
DVD encoded for ALL REGION NTSC WORLD FORMAT; extras include an exploisive interview conducted before the performance.