Joe D'Amato's Final Theatrical Release!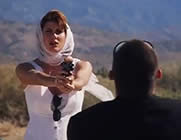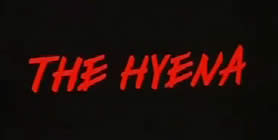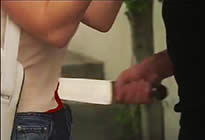 Original Italian Title: IL LENA [The Hyena]

director: Joe D'amato (Aristide Massaccesi)
starring: Cinzia Roccaforte · Dvid D'Ingeo · Anna Maria Petrova · Jason Saucier · Lisa Comshaw · Fonda Rosing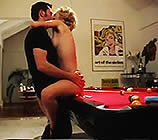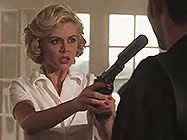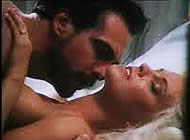 Emy (played by knockout Cinzia Roccaforte) is left at home for the weekend after her rich husband goes out of town to close an important business deal. In reality, he's spending time with his mistress; and his wife is far removed from his mind. However, at that point, Emy becomes victim to a vicious home invasion. A man named Roy shows up, kills the maid and violently rapes Emy. Roy claims to be holding her sister hostage and he's demanding $500,000 for safe return. Since it's Saturday. The banks are closed the two must stay together for the weekend. This leads to a strange turn of events.
For Joe D'Amato, the decade before his death [January 1999, age 62] was filled with nonstop array of hardcore (XXX) productions. He cranked out an astonishing 125+ films between 1989-98; most contained only a breathe of plot which essential served to take the hardcore action from one scene to the next. Only a handful of his movies from the '90s were intended for theatrical release (i.e., non-hardcore). His last horror film was FRANKENSTEIN 2000 (1991) followed by a Margaux Hemmingway thriller A Woman's Secret. He also helmed some interesting softcore potboilers LABYRINTH OF LOVE, CHINESE KAMA SUTRA and HOUSE OF PLEASURE before turning to the steady diet of XXX fare. Then, five years later - in 1997 - he dedicated time to making THE HYENA. It would be his very last release to the theaters.
An Italian Film in English language; fullscreen format (4:3), uncut (87 minutes), DVD encoded for ALL REGION NTSC WORLD FORMAT; extras include original theatrical trailer.