"Uncompromisingly Bad while being Spectacularly Wonderful!"
There has NEVER been anything like this!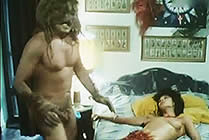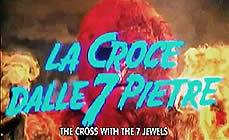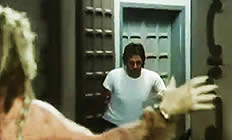 Original Italian Title: LA CROCE DALLE 7 PIETRE [The Cross with Seven Jewels]

director: Marco Antonio Andolfi
starring: Marco Antonio Andolfi (as Eddy Endolf) · Annie Belle · Gordon Mitchell · Giorgio Ardisson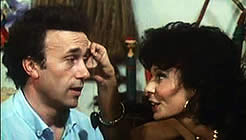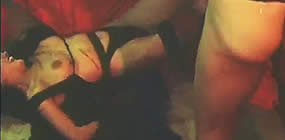 This legendary (yet seldom seen) erotic werewolf movie from director/writer Marco Antonio Andolfi is a cinematic Monte Cristo sandwich... uncompromisingly bad for you while being spectacularly wonderful. Absolutely, there is nothing else like it. And the blame - or praise - lies squarely on the shoulders of Mr Andolfi who produced, directed, wrote, and starred in it as well as handled all the special effects. He plays Marco Sartoni, a young man who lives under the anguish of lycanthropy, a curse that can only be controlled by wearing a jeweled cross on a chain around his neck. Without that cross, at midnight, Marco transforms into a werewolf (or rather, a naked man with spotty hair, sharp teeth and super strength), a birth condition resulting from his mother fucking a gorilla monster during a wild S&M satanic orgy.

Specifically, the plot finds Marco leaving Rome to visit his cousin Carmella in Florence. But soon he becomes the victim of a street mugging; and his cross is stolen. Desperate to retrieve it, Marco begins a search which takes him into a brothel/dance hall (where he meets a whore with a heart of gold who becomes his girlfriend), then into a hotbed of gangsters, drug traffickers, terrorists and eventually into the bed of a psychic prostitute.
This is Marco Andolfi's only major contribution to filmmaking (although he did co-star as a savage caveman in the quirky ADAM AND EVE VS THE CANNIBALS under the name Antonio Andolfi). He has since moved to radio work and is currently in his 20th year as an on-air personality in Rome. This film would probably qualify as Gordon Mitchell's worst film if he hadn't made SKIN UNDER THE CLAWS back in '75. And it would be Giorgio Ardisson's worst if he hadn't starred in horrendously awful DELITTI (CRIMES) the previous year. After this film, Annie Belle - at age 33 and an array of movies (including Joe D'Amato's ALCOVE) - quit acting and went to graduate school where she received a degree in Psychology. Subsequently, she become a social worker in France for people diagnosed with mental illness. Ms Bell continues to work in that capacity today.
An Italian Film with English subtitles; widescreen format (16:9), uncut (83 minutes), DVD encoded for ALL REGION NTSC WORLD FORMAT; extras include original theatrical trailers.