Fully Uncut (94 Min) International English Version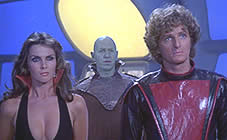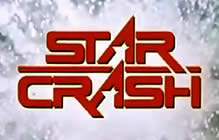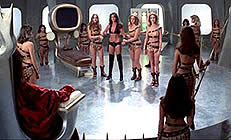 Original Italian Title: SCONTRI STELLARI OLTRE LA TERZA DIMENSIONE
[Star Clashes in the Third Dimension)]

director: Luigi Cozzi (as Lewis Coates)
starring: Marjoe Gortner · Caroline Munro · Christopher Plummer · David Hasselhoff · Joe Spinell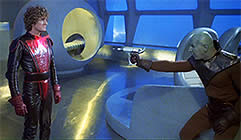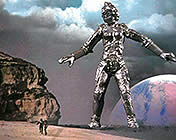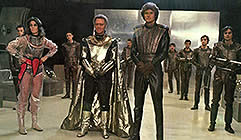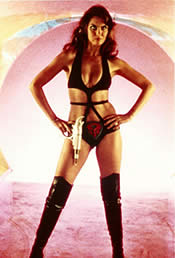 There are two reasons to embrace Star Crash. Caroline Munro is one of them. The other is knowing here is the movie Luigi Cozzi wanted to make and - as he put it - "the movie I always wanted to see." While it's true that the studio pressured Cozzi into including some Star Wars elements, he gleefully admits to having never seen STAR WARS and instead doing what-the-hell he wanted. This movie was never intended to be a parody (or a comedy for that matter), rather it is so outrageously fanciful and naively resolute that the result is utterly striking. The plot: An outlaw smuggler named Stella Star and her alien companion are recruited by the Emperor of the Galaxy to rescue his son and destroy a secret weapon wielded by the evil Count Zarth Arn.
     Our friend SciFi writer Harlan Ellison once said: "they had to ugly Caroline Munro down, so that the cameras wouldn't melt during filming!" She was a Bond Girl in 1977's Spy Who Loved Me but she will always be remembered for her staggeringly sexy role in CAPTAIN KRONOS: VAMPIRE HUNTER. Her later films of note include Cozzi's DEMONS PROFUNDUS and Jess Franco's PREDATORS OF THE NIGHT.
An Italian Film in English language; widescreen format (16:9), uncut (94 minutes), DVD encoded for ALL REGION NTSC WORLD FORMAT; extras include original theatrical trailer.