Indonesian Cannibal/Jungle Actioner with Debbie Young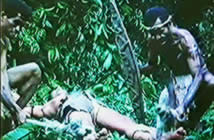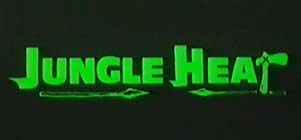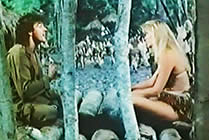 Original Indonesian Title: RIMBA PANAS [Hot Jungle]

director: Ratno Timoer
starring: Debbie Young · Peter O'Brian · Didier Hamel · Alba Fuad · Johan Samirna · Advent Baugun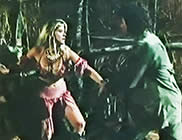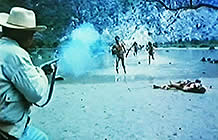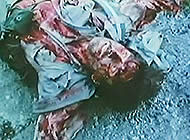 Similar to (but far better than) Jess Franco's WHITE CANNIBAL QUEEN, here's the story of a young white girl kidnapped by a tribe of cannibals. It all starts with a battle between an angry tribe of savages and a team of explorers. Apparently the attack was not unprovoked as one of the hunters had stolen a sacred jar full of gems from the natives. Everyone in the expedition is killed and devoured but the cannibals take a baby girl back to their village. Many years later, a female explorer named Lola gets her hands on a map and a diary detailing the location of a valuable treasure. She puts together a team of people for a jungle safari but some thugs overhear the plan and infiltrate the group. This leads to lots of misadventure and double-crossing until everyone arrives in the tribal village where they discover the white girl, now a young lady named Mazizi, and her cannibals.
Ratno Timoer (born Ahmad Suratno in East Java, Indonesia) was a popular actor before turning to directing in 1974. He made a handful of martial-arts supernatural films, mostly with Barry Prima (i.e., Devil's Sword and Return of the Ninja), before embarking on this project. It would be in last venture as he suffered from acute arthritis and retired after this picture. Mr Ratno Timoer died from a stroke in December 2002 at age 60.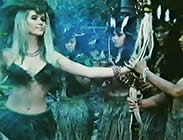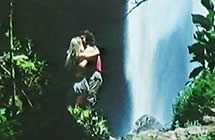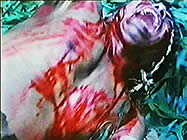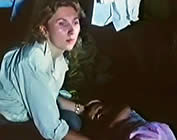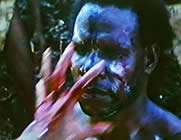 An Indonesian film in English language with burnt Greek subtitles; fullscreen format (4:1), uncut (89 minutes),
DVD encoded for ALL REGION NTSC WORLD FORMAT; extras include theatrical trailers.



Nudity/Violence/Rape/S&M/Sexual Brutality
Recommended For Adult Audiences