The Greatest Italian Sex Symbols Together in One Film!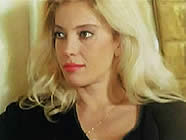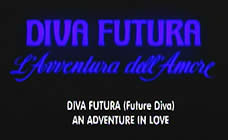 Original Italian Title: DIVA FUTURA: L'ARRENTURA DELL'AMORE [Diva Future: Adventure in Love]
also known as DIVA FUTURA VS. BLUE MICE

director: Ilona Staller
starring: Moana Pozzi · Malu (as La Nuova Ramba) · Petra Scharbach · Baby Pozzi · Hula Hop
Eva Orlosky · Lugio Rosato · Rick Battaglia · Donna Gatto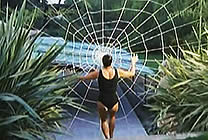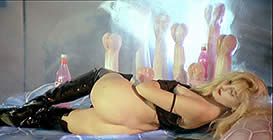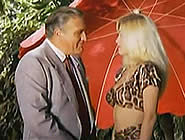 Moana Pozzi is the boss of Diva Futura, a powerful new age nightclub (which is also active in modeling and kinky political movements). She and her partners actively promote a hedonistic lifestyle of unrestrained sex, pleasure and happiness (a philosophy similar to Ilona 'Cicciolina' Staller's campaign platform when she was elected to the Italian congress). But the woman of Diva Futura soon finds themselves terrorized by the gangster owner of Blue Mice, a condom company, when they support a blackmailed scientist who has discovered an AIDs blocking serum.
The film is so cockeyed and excessive... we recommend that you enjoy it stoned. Here's amazing eye-candy, featuring the greatest Italian sex symbols - Moana Pozzi, Malu, Petra, Baby Pozzi, Eva Orlosky and Hula Hop - together in a film directed by starlet Ilona (Cicciolina) Staller. Two years before making this film, Ms Staller founded the Love Party with Moana Pozzi and ran for Italian congress. Her platform was to fight for the legalization of brothels, "love parks" and better sex education. She won the election and served as a representative from 1987-92. After a divorce to American actor Jeff Koons followed by an unsuccessful custody battle in 1994 (the Italian courts ruled that she was too "liberal to raise a child"), Ilona moved to Brazil where she starred in a mainstream TV series called Xica da Silva. As of this writing, she has returned to her original home in Hungary where she plans to get involved in politics.
Moana Pozzi appeared in 60+ productions between 1980-1994 but she was better known for her off-camera affairs with prominent and important men in Italian society (including Prime Minister Bettino Craxi). In 1988, she also made a film with Petra and Hula Hop called EROTIC GAMES.  Earlier, Moana starred in Cesare Canevari's sleazy thriller KILLING OF THE FLESH. Moana Pozzi died in September 1994 from liver cancer. She was 33 years old.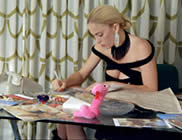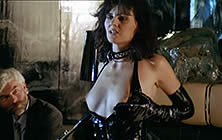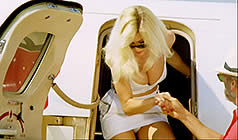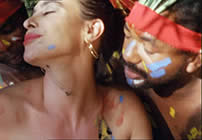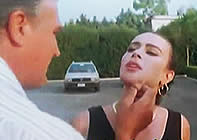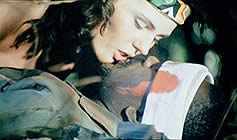 An Italian film with English subtitles; widescreen format, uncut (86 minutes),
DVD encoded for ALL REGION NTSC WORLD FORMAT; extras include theatrical trailers.
   


Nudity/Violence/Rape/Sexual Brutality
Recommended For Adult Audiences Only