Captain America and Santo fight a very evil Spiderman
in this 'not for the kids' Turkish Madhouse Production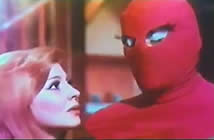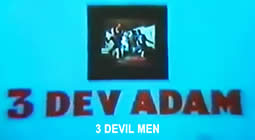 Original Turkish Title: 3 DEV ADAM [3 Devil Men]
also known as A VERY BAD SPIDERMAN and THREE MIGHTY MEN
and CAPTAIN AMERICA AND SANTO VS SPIDER-MAN
director: T. Fikret Ucak
starring: Aytekin Akkaya · Deniz Erkanat · Yavuz Selekman · Teyfik Sen · Dogan Tamer · Altan Gunbay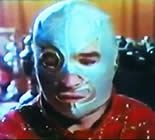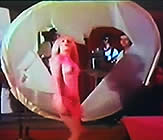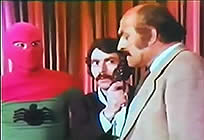 Before the opening credits, this very evil Spiderman and his gang are at the beach where they bury a girl in the sand up to her neck. Then tear her face apart the outboard motor blades. This is one of many atrocities by Spidey and his boys. They are terrorizing Istanbul and the police don't know what to do. So, they contact the greatest crime fighters in the world... Captain America and the Mexican wrestler Santo. Meanwhile, Spiderman is involved in a convoluted racket of smuggling artifacts from Turkey and selling them to dealers on the blackmarket in the USA and then buying them back with counterfeit money. This Spiderman has no superpowers (except an enormous perchance for evil) but he does know 'movie' martial arts and is a rather good escape artist. His primary weapons include a penknife, a shower head, and a complicated torture device involving hungry rodents.
Director T. Fiket Ucak (born Tevfik Fikret Uçak) was a major director in Turkey, responsible for 40+ projects before his death from a stroke at age 69 in July 2003. Lead actor Aytekin Akkaya (Captain America) was a popular action star in that corner of the world. He only appeared in one non-Turkish movie, playing Prince Abdullah in Antonio Margheritta's ARK OF THE SUN GOD.
A Turkish film with English subtitles; widescreen format, fully uncut (80 minutes),
DVD encoded for ALL REGION NTSC WORLD FORMAT; extras include theatrical trailers.