Tini Cansino (from Arabella) in Joe D'Amato Sex Romp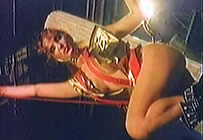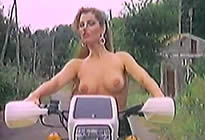 Original Italian Title: DELIZIA [Delight]

director: Joe D'Amato [Aristide Massaccesi] (as Dario Donati)
starring: Tini Cansino · Luca Giordana · Giorgio Pietrangeli · Andriana Russo · Carmen Di Pietro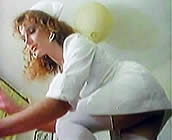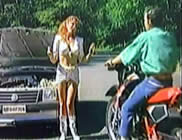 Tini Cansino plays American nudie model Delight who travels to a small Italian town in to collect an inheritance after the death of her uncle. She becomes the houseguest of her (unknown) relatives as she awaits the reading of the will. Her young cousin Claudio instantly recognizes her from the pages of Playmen [the Italian Playboy] and spends all his time flirting with her. He becomes the envy of his friends. Claudio is obsessed with fantasies of taking this real-life magazine girl to bed. However, Delight isn't interested in his advances. She is engaged to her personal photographer back in the States and she has no interest in betraying him. When Delight discovers that her boyfriend is cheating on her, she allows cousin Claudio to seduce her.
It's rather amazing that there was even a script for this episodic sex romp. But there was, penned by horror director Riccardo Ghione (of BLOOD SOAKED LAWN fame) especially for Greek-born Tini Cansino who found fame in Stelvio Massi's controversial sex Giallo ARABELLA BLACK ANGEL.
Much has been written about Joe D'Amato (born Aristide Massaccesi). He was a revolutionary filmmaker who helmed 200+ films between 1972-1998. D'Amato is best known for Black Emanuelle films (especially EMANUELLE IN AMERICA) and the legendary hardcore horror film SEXY NIGHTS OF THE LIVING DEAD. He died from a heart attack in January 1999 at age 62.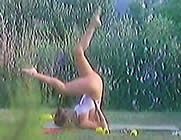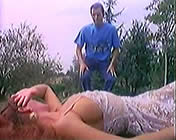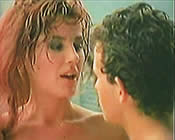 An Italian film with English subtitles; widescreen format, uncut (81 minutes),
DVD encoded for ALL REGION NTSC WORLD FORMAT; extras include theatrical trailers.
     


Nudity/Sexual Situations
Recommended For Adult Audiences