Vile, Reprehensible Film from director of SKIN 'EM ALIVE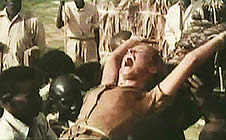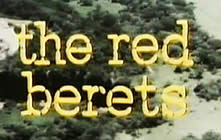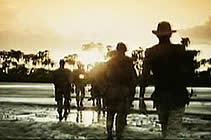 Original Italian Title: SETTE BASCHI ROSSI [Seven Red Berets]
also known as REBELLION and CONGO HELL

director: Mario Siciliano
starring: Ivan Rassimov · Kirk Morris · Pamela Tudor (as Priscilla Drake) · Sieghardt Rupp · Angelica Ott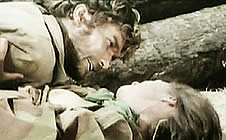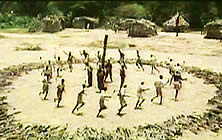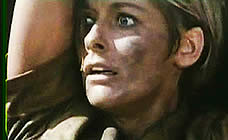 Here is the debut film from Italian director Mario Siciliano (who also made the equally vile SKIN 'EM ALIVE). This is a down-and-dirty actioner starring genre fave Ivan Rassimov (who appeared in 50+ films during the seventies but is probably remembered for SUPER BITCH or DEEP RIVER SAVAGES) and Kirk Morris (known for his peplums like MACISTE IN HELL). The action centers around a misfit group of mercenaries hired to invade the Congo in search for missing government documents. Their instructions are clear... no life is more important than their mission. Even though the band includes two black men, the soldiers feel no empathy for the 'savages' standing in their way. The group also consists of a female medical officer who gets sexually assaulted by her own companions... this includes getting raped by the clearly-troubled commander during combat (!).
Please note: this movie is vile. It's a racist, sleazy piece of trash that is absolutely jaw-dropping in its inhumanity. Like SKIN 'EM ALIVE, here is a parade of nastiness which features an inordinate amount of torture killing and sexual brutality. Director Mario Siciliano is better known for his Spaghetti Westerns (TRINITY AND SARTANA), Italian horror films (EVIL EYE) and erotica (DANGEROUS LOVE). Mr Siciliano died at age 62 in 1987.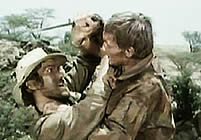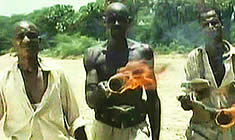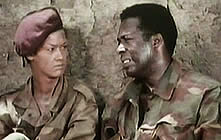 An Italian film, in English language; widescreen format (16:9), uncut (97 minutes),
DVD encoded for ALL REGION NTSC WORLD FORMAT; extras include theatrical trailers.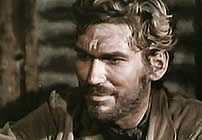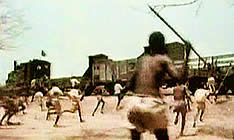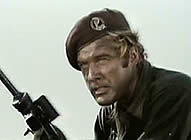 Strong Sexual Themes/Nudity/Graphic Violence/Sexual Brutality/Racism
For Mature Audiences