The Fully Uncut (91 min) Version of Riccardo Freda's Epic Adventure
·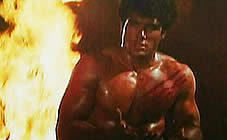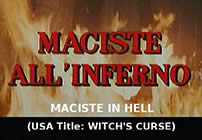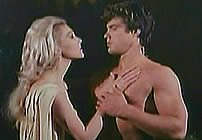 Original Italian Title: MACISTE ALL'INFERNO [Maciste in Hell]
also known as THE WITCH'S CURSE [USA Title] and HERCULES GOES TO HELL

director: Riccardo Freda
starring: Kirk Morris · Helene Chanel · Vira Silenti · Angelo Zanolli · Andrea Bosic · Donatella Mauro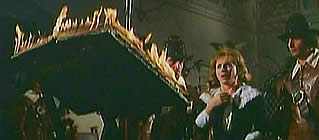 Ancient Greek muscleman Maciste turns up in 17th century Scotland to battle the forces of supernatural evil and save an innocent woman accused of witchcraft. As the film opens, a witch is burned at the stake. She invokes a curse on the land and promises to someday return. Fast forward a hundred years to the 17th century, where the townspeople are up in arms because a female stranger (with the same name as the witch) has made a home in their community. They have captured the young woman with her husband and are ready to burn them at the stake. At this point, unexpectedly, a man - clad only in a loincloth - rides into the village [he's superhero Maciste and is not bound by traditional barriers of time and space]. He has come to save the wrongly accused and restore order to the village. Maciste discovers that to save them, he must destroy the original witch's curse. And to do that, he must jump into a pit. journey to Hell and force the witch to revoke the bad vibes. It's not an easy venture.
In the hands of legendary director Riccardo Freda, this 'Hercules' film emerges as one the genre's best. It's a wonderful mixture of fantasy and gothic chills, helmed by Freda shortly after his incredible ALONE AGAINST ROME. Mr Freda directed 50+ movies in the 40 years between 1942-1982. He was generally credited as the man who 'brought style to exploitation cinema' but is probably best known for discovering (and training) Mario Bava. Riccardo Freda died from a stroke at age 90 in December 1999.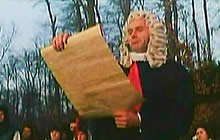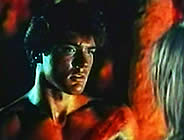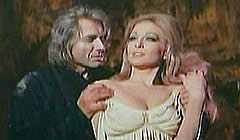 An Italian film in English (with some Italian/English subtitles segments); widescreen format (16:9),
Fully uncut (91 min.), DVD encoded for ALL REGION NTSC WORLD FORMAT, playable on any American machine. Extras include original American theatrical trailer.