Pasquale Fanetti (as Frank De Niro) directs
and Petra stars in Notorious Italian Sleaze!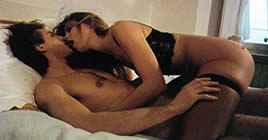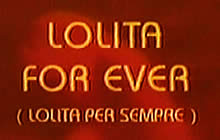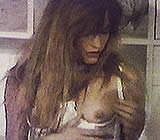 Original Italian Title: LOLITA PER SEMPRE [Lolita Forever]

director: Pasquale Fanetti (as Frank De Niro)
starring: Petra (Petra Scharbach) · Massimo Guelfi · Moris Brocchi · Valentine Demy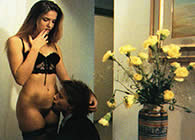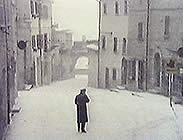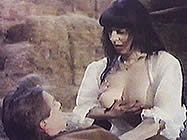 In a remote Italian mountain village, a narcissistic photographer named Cosmo has run out of patience for his snooty, demanding clients. After a particularly distressing encounter, he closes his shop and prepares to leave. Cosmo decides to visit a small town on the other side of the mountain where his dream girl now lives. Up until that moment, he had been sneaking to the local college every morning - with his binoculars - to secretly spy on his unsuspecting angel. But now she's gone back home and he's determined to find her. The result is a succession of events which eventually lead Cosmo to her arms with unexpected results.
This is certainly the coldest sex film ever made, set against ever-mounting barriers of snow. That describes the plot itself which - while scorching hot - is also confined inside drifts of freezing white, forcing the viewer to wonder if any of it is real or simply a glimpse at fantasy. The movie is purposely different from most other Pasquale Fanetti projects, yet it is remarkably familiar (in fact, many scenes are recycled from some of his previous films). It plays like a living, breathing dirty joke. Yet there's a heart beating under that sleazy veneer.
Pasquale Fanetti was most prolific in the late '80s/early '90s with GAMES OF DESIRE, CRIMES IN A RED LIGHT, SCENT OF PASSION, WOMAN FOR ALL, TELEPHONE SEX & THE INVISIBLE MAN, et al. He retired in 2007 after making an erotic horror film LYCATROPUS.,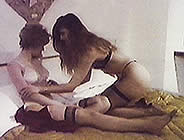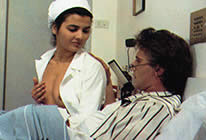 An Italian Film with English subtitles; fullscreen format (4:3), Fully uncut print (74 min.), DVD encoded for ALL REGION NTSC, playable on any American machine. Extras include trailers.