Fully Uncut English Version with Extreme Scenes Intact and Uncensored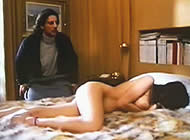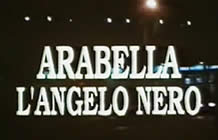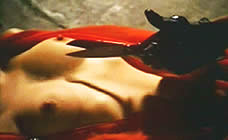 Original Italian Title: ARABELLA L'ANGELO NERO

director: Stelvio Massi (as Max Steel)
starring: Tini Cansino · Valentina Visconti · Francesco Casale · Carlo Mucari · Renato D'Amore · Giose Davi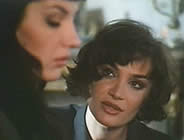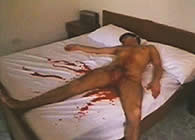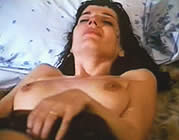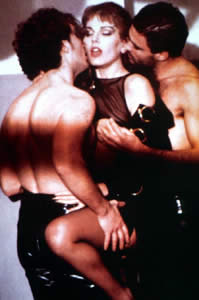 Easily, here is one of the sleaziest, nastiest Giallos [Italian Thrillers] of them all, comparable to the other two notorious contenders GORE IN VENICE and KILLER IS STILL AMONG US. Perhaps it's not surprising that director Stelvio Massi used a pseudonym (Max Steel) rather than his real name. Greek-born starlet Tini Cansino plays Arabella, a woman living with terrible guilt, married to author Francesco. He's confined to a wheelchair after a serious automobile accident on his wedding day caused by Arabella giving him a blow job while driving down the road. Francesco is an angry man as a result. Arabella, in turn, slips out of the house nightly to every seedy place she can find, looking for sexual pleasure from anyone she meets. Many of her illicit partners start turning up dead - with butchered genitalia - and a lesbian police inspector is assigned to the case. But she suffers from graphic nightmares that involve getting stabbed in the vagina with scissors.
Tini Cansino is a deadringer for Betty Page, in appearance and attitude. She made only 10 movies in her brief career, working often with a couple of the industry's most cherished sleaze directors, Joe D'Amato (Aristide Massaccesi) and Frank De Niro (Pasquale Fanetti) before retiring in 1993., in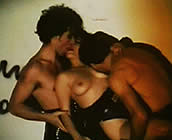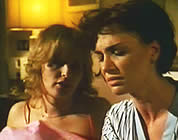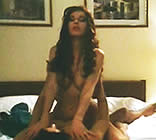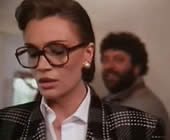 An Italian Film in English language (no subtitles); fullscreen format (4:3), Fully uncut print (89 min.) no fogging of genitalia, DVD encoded for ALL REGION NTSC, playable on any American machine. Extras include trailers.