Mega Rare Hardcore (XXX) Bigfoot Grindhouse Trash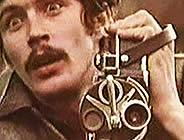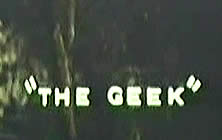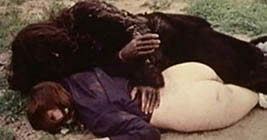 director: Unknown
starring: Lynn Holmes · Nora Wieternik · Ric Lutze · Jimmy Macon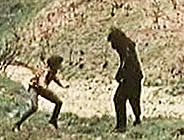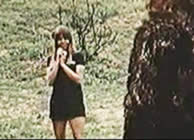 This is a true oddity even within the realm of bizarre hardcore exploitation. It is the best [admittedly the only] XXX Bigfoot ever made, but - in reality - it's gleefully dreadful when compared to any other film in existence. The director is unknown [although rumored to be James E Meyers, a hardcore filmmaker who dabbled in short sex films in the early 70s, usually under the pseudonym Jimmy DeKnight]. And the cast consists of lessor porn stars from the vintage days with blonde Lynn Holmes and brunette Nora Wieternik heading the bill. Ric Lutze is the lead male here. He would appear in 125+ adult films over the next 20 years, but he's probably best known as the real-life husband of Rene Bond for a short time (1970-72). Ric and Ms Wietrernik also played husband and wife in the quirky REFINEMENTS IN LOVE a year earlier.

After an opening narration (which insists the Bigfoot is also known as Sasquatch and The Geek), three hippie couples enter the Oregon wilderness in their VW Minibus. They are dedicated to finding (and capturing on film) the elusive Bigfoot. Eventually - after some sweaty sex games in the woods - they discover an enormous footprint in the mud and decide to set up their camera, hoping to catch a glimpse of the legendary creature. Sure enough, the Geek does show up and, despite tepid opposition from the males, he attacks and rapes Nora and Lynn.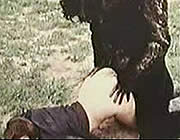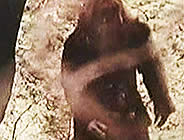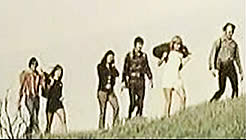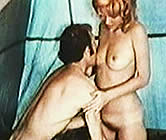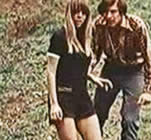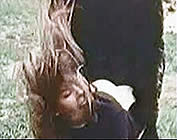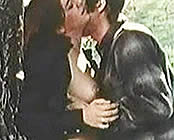 An American film in English language; fullscreen format, uncut (50 minutes),
DVD encoded for ALL REGION NTSC WORLD FORMAT. Extras include trailers.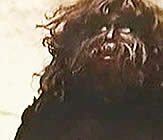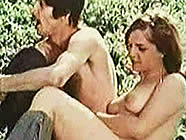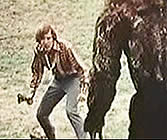 Hardcore XXX Sexual Depiction/Male and Female Nudity/Violence
For Adult Audiences Only